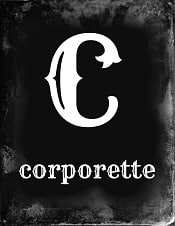 Travel back in the Corporette® time capsule… Here's what was on our minds oh so many moons ago.
20 Years Ago…
How Short Is Too Short: The Ally McBeal Fingertip Test
The Hunt: The Best Chokers To Wear With Blazers
Emergency Reader Electronic Mail: Help, My Colleague Just Got the Same "Rachel" Haircut As Me!
Tales from the Wallet: How To Spend Your Equal Wages (Coming Super Soon!)
40 Years Ago…
The Professional Girl's Guide to Burning Your Bra
New Trend Alert: Shoulder Pads
How the Equal Rights Amendment Will Affect You Once It's Ratified (Three More States to Go!)
Emergency Reader Fax: My Boss Invited Me to a Key Party!
70 Years Ago…
Husband at War? Take Charge of Your Own Destiny
It's Up to Women: Interview with Eleanor!
How to Get a Midday Workout on the Trampoline
Emergency Reader Telephone Call: I've Just Been Appointed The First Woman Cabinet Member and I Have No Idea What To Wear To My First Meeting!
100 Years Ago (Wow!)…
Work Appropriate Corsets
Suffragette City: Tell President Wilson Why YOU Want the Vote
Tales From the Wallet: How Buying One Less Egg a Week Will Make Your Allowance Go Farther
Steal Her Style: Margaret Sanger's Tips on Hatwear
Emergency Reader Telegram: How Can I Hide My Sixth Baby Bump Until It's Time to Tell My Boss?
Readers, do you remember any favorite stories from the past 20, 40, 70, or 100 years (or heck, ANY time in the history of the world)? Please add 'em below.