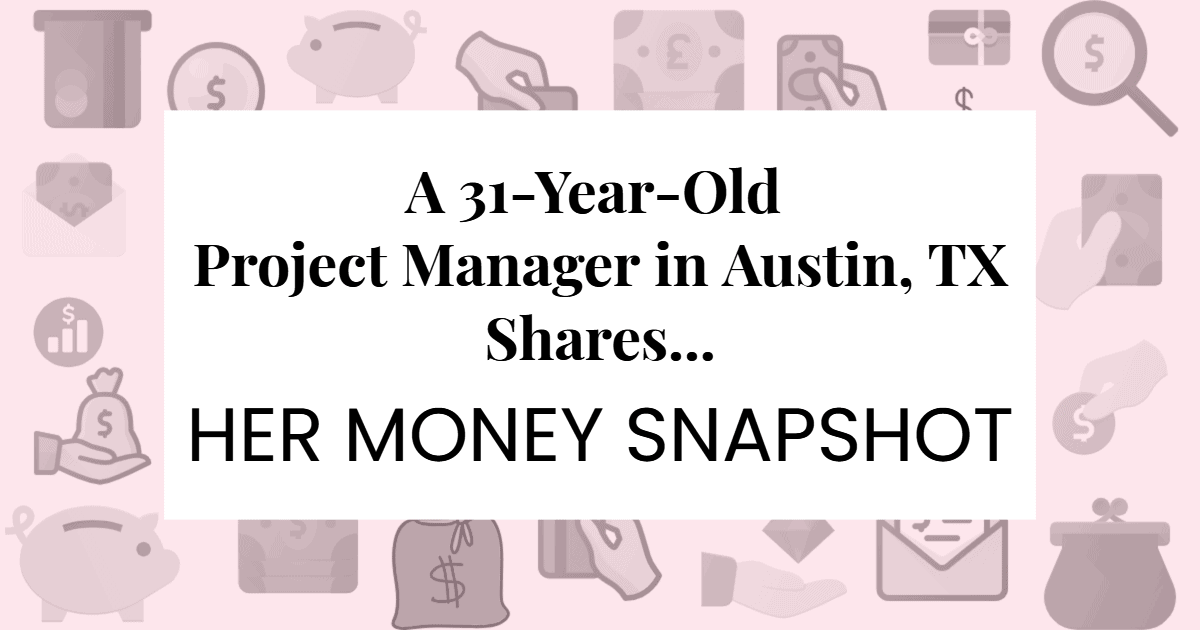 For today's Money Snapshot, we're talking salary, net worth, debt, and more with reader Penny in Texas, who works as a project manager. She noted, "The biggest thing is being intentional. If you want to spend 10% on giving, cool; if you want to put 75% of your income towards rent, more power to ya; if you want to spend $750 a month on coffee, 'tis your life. My biggest guide would be to do these things on PAPER and on PURPOSE. To me, that's the true definition of being intentional."
We got a few requests from readers to launch our own "money diary" series, so we've asked willing readers to fill out a form with lots of details about debt, spending, saving, and more! If you'd like to fill out the form and be considered for a future personal money snapshot, please click here to submit your response! You can see a PDF of the questions if you want to review them ahead of time. See others in the Personal Money Snapshot series here.
Please remember that this is is a real person who has feelings and isn't gaining anything from this, unlike your usual friendly (soul-deadened, thick-skinned, cold-hearted, money-grubbing) blogger — so please be kind with any comments. Thank you! — Kat
Name: Penny
Location: North Austin, Texas
Age: 31
Occupation: Project manager
Income: $66,300
Net worth: $150,000
Net worth when started working: First PT job at 18, FT job at 23
Living situation: Rent a studio apartment
Here's an update from Penny on her life since submitting her Personal Money Snapshot last year:
Since I sent this in, I've gotten a promotion and a raise! But interestingly, I've decided to stay in my humble studio. I'm putting the extra money towards my down payment/new-car fund. So I'm grateful and looking forward to the future. I'm planning to chill out in July (hoping to take the foot off the saving gas a bit), so that's on the horizon as well. Also, my car is now probably worth about $2,000. :) [see below] Still going strong!!!!
Debt
What does your debt picture look like?
Debt-free!
How did you pay for school?
Money was a big source of stress growing up, and going to school only compounded that. I had scholarships my first semester of undergrad, then a combination of jobs, loans, grants, scholarships, and summer classes at community college. Placement tests from high school let me graduate college in 2.5 years. My master's was a full fellowship, so completely paid for.
Do you own or rent? How much do you pay monthly?
$1,053/mo. for a 575-square-foot studio (full washer and dryer included)
Home debt: Share your theories and strategies with us (including any that lead you to rent rather than own).
I don't pay more than 25% of my net income on rent. I also have no credit cards or even credit score.
Have you paid off any major debt?
Yep, I had $9,500 in debt from undergrad, but paid it off after I got my first job. I didn't buy ANYTHING until it was paid off; I actually slept on a mattress for 10 months. I still have the email from when it was confirmed as paid in full. :)
We asked Penny how long it took to pay off her student loans:
It took me about six months to pay it off. My take-home pay was $2,800/month at my first full-time job… and I was putting $1,400/month towards my loans!!!! To be clear, yes, this was VERY tight. I preserved my frugal lifestyle from grad school and did nothing that cost any money. It was tight, but it's hard to describe the feeling of freedom once you don't have any debt. It sounds obvious, but when you don't have debt, all of your money is for you!
Have you ever done anything noteworthy to avoid or lessen debt?
People say you need X months for an emergency, but based on my life and experiences, I feel comfortable with more. Currently I keep about $30,000 in cash. Yes, yes, dahling: "You could be earning interest!" I've thought about it a lot, and this is the amount that I feel comfortable with, especially since I don't use credit.
We asked Penny for her thoughts about applying for a mortgage without having a credit history, and she explained:
It is something that I think about, and even considered pursuing a couple of times. Tbh, however, my biggest concern is the lack of transparency in determining FICO scores. For example "Get a card… but only spend 30%… but take six months to pay that off… and then don't use more than 12%… and then get a second card… but don't spend too much… but you have to spend something!" It makes me uncomfortable that the best people can do is more or less guess how to do such a significant financial move. I'd prefer to not have a score rather than to accidentally get a low one.

But in super honesty… I just REALLY hate debt. Having no lines of credit, I can't borrow money and can't live beyond my means. (This is also a reason I have such a beefy emergency fund.)

I do intend to get a mortgage sometime over the next couple of years. I'll likely do manual underwriting if I can. Still researching the best potential options. Wish me luck!
Savings, Investments & Retirement
How much do you save each month or year in retirement vehicles like 401Ks, Roth IRAs, and others?
Currently I only get my full employer match (4%) because I'm saving for a down payment, but throughout my 20s I was stuffing money into investments!
How much money do you allocate to other tax-savvy investments/accounts like HSAs, 529s, FSAs, and others?
Right now just IRAs and 401K, but definitely looking into other options.
How much do you save outside of retirement accounts?
Right now I save about $1,550/month towards my down payment fund.
Talk to us about investments.
I have two financial advisors. I talk with each of them a couple of times a year.
Do you have an end goal for saving or are you just saving for a rainy day?
I'd like to be able to generate $80,000/year from investments at some point. I'm currently studying what that would like look like with investments other than retirement accounts (although I love a good Roth, lol).
When did you start saving seriously? How has your savings strategy changed over the years?
I'm a natural saver, so I'm actually working on spending. Courtesy of COVID, however, it has been very difficult to curb as of late.
What's the #1 thing you're doing to save money, limit spending, or live frugally?
The biggest thing is being intentional. If you want to spend 10% on giving, cool; if you want to put 75% of your income towards rent, more power to ya; if you want to spend $750 a month on coffee, 'tis your life. My biggest guide would be to do these things on PAPER and on PURPOSE. To me, that's the true definition of being intentional.
Do you have an estate plan in place? A trust?
Just a basic will
How much do you have in cash that's available today?
$40,000
How much do you have in cash that's available in a week?
$40,000
How much is in your "emergency fund," and did you include it in the previous question?
$30,000; high-yield interest saving account
How much do you have in retirement savings?
$110,000
How much do you have in long-term investments and savings (CDs, index funds, stocks) that are not behind a retirement wall?
$0 :(
If property values (home, car) are included in your net worth, how much are those worth?
My car is probably worth $5,000 (guess).
Spending
How much do you spend on the following categories on a monthly basis?
Groceries: $250
Restaurants, bars, takeout, and delivery: $50
Clothing and accessories: $0
Transportation: $75
Rent/living expenses: $1,053
Entertainment: $25
Other major expenses: $120 on hair
Health care – premiums and other costs: $30 through my job
What's your spending range for these things? What's your average?
Vacations – Range: $0
Vacations – Average: $0
Charity – Range of donations: 10%
Charity – Average donation or giving amount: $450/month
Individual items of clothing – Range: $0
Individual items of clothing – Average: $0
Apartment or house – Current main residence: Rent is $1,053
Any other large personal expenses?
$75/month to maintain languages (practicing with tutors)
Fill in the blank on this question: I could save _____ if I stopped ______, but I don't because _______.
I could save $120 a month if I stopped getting my hair done, but I don't because it's intentional spending. ;)
Have any large medical expenses (including nursing homes) for yourself or others played a role in your financial picture?
I had sciatica last year and PT was about $1,000 (not covered by insurance).
How has your family provided financial support in your adult life, if any? (Or, do you provide support to them?)
I was on my parents' insurance for a year after finishing school, and I was on their cell phone plan until after college too.
Does your family provide any non-financial support?
Just love :)
We asked Penny about how the stress she felt about money growing up affected her current money philosophy, and she had this to say:
Well… I was raised lower to mid-middle class (still not completely sure to this day, lol), but both of my parents grew up poor. Interestingly, they both grew up to have very different relationships with money. My dad tends to have a happy-go-lucky (burning hole in pocket) vibe while my mom squeezes money so tight the eagle screams "AMERICA!" and flies off the coin. This was a source of a lot of money conflict while they navigated this, and I learned after I grew up that they hadn't discussed money at all before getting married. They're still married and happy, but I've def made a mental note to discuss finance in detail before tying the knot with anyone.

Also, they weren't super financially literate, and sadly not as much as I'd like even to this day. For example, it took some convincing to make them believe an IRA wasn't a scam when I set up my first one. This made me want to educate myself as much as possible. But I really love and appreciate both of my parents, and I look up to both of them.
Money Strategy
Do you have a general money strategy?
Yep, be intentional and use a zero-sum budget before the month begins.
Time vs. money — do you spend money to save time (e.g., cleaning service)? Do you donate your time instead of money? What else does this phrase mean to you?
Yes, I would consider my hair to be an example. Due to my hair's unique characteristics, I COULD learn to tame it, but as long as my financial goals allow, I'm willing to pay.
What are your favorite resources for personal finance?
I like Paula Pant of Afford Anything, Michelle Singletary of The Washington Post, Dave Ramsey of the Dave Ramsey Show, and the "Two Cents" channel on YouTube.
What advice would you give your younger self about personal finance?
Once you get out of debt, you'll be surprised by how far your money can actually stretch. :) So stay out! (And I did.)
Icons via Stencil.