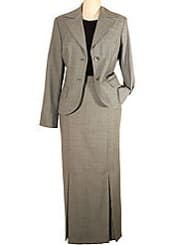 2016 Update: We still stand by the advice in this older reader mail asking if longer skirts appropriate for court, but you may also be interested in our recent discussion on whether women lawyers can wear interesting suits to court.
We've been thinking about this question since we first read it…
I have an important court appearance coming up. I will be arguing an appeal on a fairly significant issue. I have been wearing pants for years to trial. But are they appropriate before the more conservative court of appeals? Also, I have terrible legs (calves and ankles mainly ). Got them from my mom. I have always been insecure about them (thus the pants). Are there any suits out there with longer skirts. I don't ever see them anymore. Are such skirts hopelessly out of style?
Obviously, long skirts had their heyday a while ago (we're guessing at least 15 years) — but we remember thinking it was very chic when a friend of ours in law school wore a suit with one. In fact, the only skirt suit we could find that looked vaguely acceptable was this Austin Reed skirt suit, available at Overstock.com (size 4 only). If you have a longer skirt suit, or you can find one, we'd say go ahead and wear it if you're comfortable in it — the people who really care whether you're in a skirt suit will be sated by the longer skirt, and the people who don't care what you wear — well, they won't care. And you, you'll be comfortable.
Otherwise… you're in a tough spot. Obviously, appellate judges should be intelligent enough to see past a pantsuit (gasp!) and listen to the merits of an argument. But, then again, we know of at least one federal judge — blind! — who made his clerks tell him if a woman lawyer was wearing a skirt suit or not when she appeared before him. That's how important it was to him. So, regrettably, our advice to you is  that if your gut is telling you to wear a skirt suit, then wear a skirt suit — after all, you are an advocate for a client and this issue is bigger than you. And it's only one day (not even the whole day!) and, hopefully, you can find a suit that has both pants, a skirt, and a jacket, so the purchase isn't a total bust.
Readers — if you have any different advice, please weigh in. Do you think longer skirts are appropriate for court?  (Or, if you've seen any long skirt suits, please let us know!)