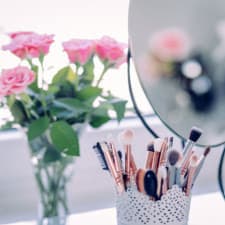 2018 Update: We still think this is a great discussion of makeup tips for the summer for professional women, but you may also want to check out our most recent discussion of summer makeup for work, as well as our broader discussion of what to wear to work in the summer.
Because the usual author is on her honeymoon, today's reader mail has graciously been answered by City Girl, who writes about a variety of topics pertaining to city living as a professional woman, including beauty and fashion for the workplace. City Girl is also an associate at a law firm in Washington, D.C.
I am wondering if you can do a post on what kind of make-up is appropriate for the office. Do you have to wear make-up at all? If so what should you wear? Are there particular brands you recommend? Any advice on this would be very helpful.
Office-appropriate makeup goes a long way towards adding polish to your image as a professional woman. It is not mandatory, nor need it be complicated or time-consuming, but it really adds to looking put-together – plus who doesn't have a bad complexion day where you want to reach for concealer? I am personally of the school that if you wear makeup to feel put together when you interview, then you should wear makeup as a summer associate, because it will help you feel confident and put-together all summer. Either way, even if you don't plan to wear much (or any) makeup, do consider some of the products below. If you had to pick just three products, I would recommend tinted moisturizer, mascara or eyeliner and some sort of lip a product.
Foundation
Light coverage is best as it makes you look natural and polished and it's easy to work with. I am a huge fan of tinted moisturizers and my top three picks for tinted moisturizer are Bobbi Brown, Laura Mercier (this comes in an oil-free version as well) and Smashbox. Bobbi Brown's has the most range of colors, though all three have a fair number of shades. All three have good sun protection, and are very much fool-proof in that you can just apply with your fingertips and be done. If you are not used to wearing makeup often, this is a good way to add polish without fuss, foundation brushes and sponges or the risk of applying too much. It's worth it to get matched at the department store though the beauty of tinted moisturizer is that it blends into your skintone because it is sheer. Another advantage to tinted moisturizer is that it survives summer heat much better than a medium or full coverage foundation.
Concealer
If you are blessed with good skin, a tinted moisturizer will be enough. If not, you will want two kinds of concealer – a soft creamy one for under your eyes and a more pigmented one for any redness or blemishes. I love Laura Mercier's Undercover Compact because it has both in a tidy little compact and some setting powder too. Perfect for touch-ups during the day. Incidentally, you don't need to buy the taklon brush Laura Mercier recommends – just buy this Eco-Tools set. The concealer brush is very similar to the Laura Mercier brush, and the other brushes will take care of what you need for eyes and powder and blush
Powder
Again, you want light coverage – the best way to achieve that is with a finely milled powder. Some swear by loose powder for morning application and pressed powder for daytime touchups, but I think it's fine to just invest in one pressed powder. That way you can use it in the morning and keep it in your purse for touch-ups. If you don't get a transluscent powder, don't try to mix and match colors across brands without testing the powders at the store. Generally, it's just easier to buy the powder from the same place you bought the tinted moisturizer. The powder brush from the Eco-Tools set works great for both loose and pressed powder.
Blush
I love blush, but I don't think your time as a summer associate is a good time to have lots of different blush looks. Use something very neutral and/or rosey and stick with it for the summer. I was a big fan of Laura Mercier's Rose Petal when I was a summer, and her Wild Bouquet is lovely too. Nars has some good colors (just pick a color without chunky shimmer) that last and last and last, as does Bobbi Brown's – just try blushes from their blush rather than their shimmer blush line. If you want to go the drugstore route, I like a lot of the blushes from Almay's Pure Blends line — they are sheer and blend well.
Bronzer
Be very sparing with bronzer – you don't want to look sunburnt – but it can give a nice glow. You could use it instead of blush, or with blush, as long as you use sparingly. I think Nars Casino and Laguna are great and don't oxidize and go orange, and their slight shimmer is just the right amount to give a light glow without being too shimmery. I also really like Laura Mercier's matte bronzers. If you get a drugstore bronzer, test it several times before using – the biggest downside of bronzer is that it can go orange, and that happens with many low-, medium- and high-end bronzers.
Eye makeup
The operative phrase here is a clean eye look – one base shadow (over some sort of a primer) that is close to your eyelid color, with just enough lightness to brighten up and open the eye, liner on the upper lids, and mascara. Crease shadow is not necessary but if you do want to do crease work, go for taupe. My absolutely foolproof combination for summer makeup that does not melt is Bobbi Brown's Cream Eye Shadow as a base/primer followed by a dusting of either Bobbi Brown or Laura Mercier powder eye shadow (I prefer Sateen or Matte), and either Bobbi Brown gel liner or Clinique Cream Shaper Eyeliner and Organic Wear Mascara. If you have oily lids, Urban Decay's Primer Potion is magic as primer, but otherwise the Bobbi cream shadow is great because it gives you the primer/base effect and some pigment. For mascara, pick something water-resistant and basic that doesn't irritate your eyes. The only eye makeup item I really recommend not getting at the drugstore is a primer/cream base – everything else can easily be bought at the drugstore – Almay's Pure Blends line is a good place to start. And avoid any liners that get too smudgey.
Lips
You will want something matte and understated, that enhances your lip color without being too flashy – also known as Your Lips But Better (YLBB). Besides avoiding anything too glossy, you have tons of choices. I often do just a basic tinted lip balm or lip stain as they are long-lasting, hydrating and give me just a bit of color, but a good basic lipstick works well too.
A note on makeovers at cosmetics counters…
…If you get one, go to Bobbi Brown or Laura Mercier. As someone who has had makeovers and owns makeup from pretty much every brand out there, I can assure you their makeup artists are really well-trained to put together an easy professional look suitable for all ages, including women in their 20s and 30s. In fact, that type of understated, low-shimmer but enhancing look is the cornerstone of these two brands. Bobbi and Laura makeup artists will understand what you mean if you ask for an understated professional look, with a clean eye, and will help you choose products and colors accordingly. Ask about how to line your upper lids if you don't know how – I have received excellent tutorials that way. That said, as you can see from my recommendations above, the only things I really recommend buying high-end is tinted moisturizer/foundation, powder, concealer, and eyeshadow base. If cost is a concern, skip bronzer – it's hard to find a good inexpensive one. Everything else (blush, shadows, mascara, even liner) you can easily get at the drugstore. I would say get the makeover before the drugstore shopping trip, because then you will have colors in mind when you shop.
Have a wonderful summer and feel free to ask questions here in the comments or over on my blog.