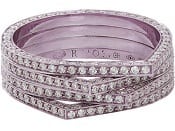 I was shopping this past weekend and saw several pieces from Repossi's lilac rhodium plated collection. The pieces look so different — but subtly so — that they blew my mind. They have a much less expensive, simple huggie in the line that I can't find anywhere online — but this gorgeous diamond ring gives you an idea (and, hey, if you're looking to treat yourself…). Gorgeous. The diamond ring is $14,340 at Barneys. Repossi Lilac Antifer Ring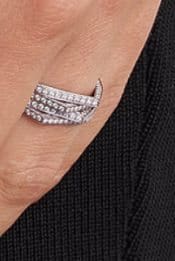 For some lower-priced jewelry with surprising/unusual colors, check out the pieces here, here, here, here, and here.
Dec. 2015 Update – While this exact ring is still in stock, you can check out more Repossi styles here, or a few favorites below. 
More Repossi Styles