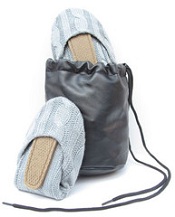 2018 Update:
I'm still wearing my CitySlips, but they no longer seem to be available for sale. There are a ton of affordable
foldable flats
on Amazon or at your local drugstore, though — a great option for an upgrade is
this foldable flat
. I had been curious about CitySlips ("foldable ballet flats for the well-heeled gal on the go!") for a while, but never seemed to cross paths with them, so I was grateful when the nice ladies over at CitySlips sent me a gold pair to review. I've still only worn them a few times, but they are impressive little things, I must say, and quite comfortable to wear around. They have stayed on my feet without flopping around (an amazing feat in and of itself) and they have surprisingly substantial foot support for something that folds in two. You'll definitely feel cracks in the concrete and whatnot below you, but it isn't a "bad" feeling so much as it is a "huh, that's different" feeling. So here's the question that I always wondered about when I saw them advertised: will they replace my
comfortable Reef flip flops
that I've walked miles in, both to and from the office but also on the tail end of countless parties and dinners out? The ones with arch support? Well — the answer turns out to be both yes and no: sometimes they'll replace my Reefs (handily) and other times I'll still probably stick to my Reefs. Here's how I'll break it down… City Slips for
keeping in a desk drawer or your bag for a day when you're wearing higher-than-comfortable heels and need to run a quick 20-minute errand outside your office — they look more professional (and hide a bad/nonexistent pedicure).
nights out on the town — I am finally liberated from my huge purses that I used to carry to hold my Reefs!
any time I have a carefully-assembled outfit (the CitySlips are far more attractive)!
but I'll keep my Reefs for
when I want to be able to walk miles
for weekend wear, probably
for an EXPECTED commute, not a "just in case" kind of thing — if only because I would want to keep my CitySlips pristine for professional wear!
They're $24.95 at Amazon or  CitySlips.com (available in black, gold, and silver).
Readers, have you bought CitySlips or other commuting products? What are your impressions?
We are a participant in the Amazon Services LLC Associates Program, an affiliate advertising program designed to provide a means for us to earn fees by linking to Amazon.com and affiliated sites.