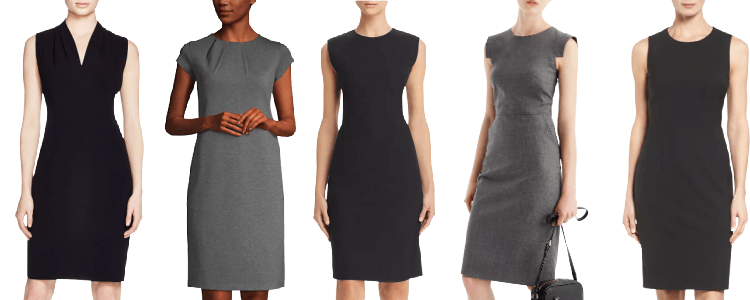 Some of the most stylish sheath dresses for work as of 2021: one / two / three / four / five (not pictured but also) 
Sure, we all know what basics professional women are supposed to have in their closets, but if you're buying one for the first time or replacing one you've worn into the ground, it can be a pain to find exactly the right incarnation in stores. In "The Hunt," we search the stores for a basic item that every woman should have.
I'm the kind of person who wears sheath dresses year round — with tights and sweaters in colder seasons, and usually with bare legs and pumps in warmer seasons.
To me, the perfect sheath dress: a) is sleeveless (so I can throw a blazer or cardigan on top without feeling like the sleeves are bunch), b) requires zero consideration of which bra I'm wearing with it because it has wide enough straps and a high (if not entirely covered) back, c) is a bit fitted, but not skin-tight like a "body con" dress (body conscious) or boxyish like a shift, and d) has a high enough neckline that I can wear it by itself. No beading/sparkles/bows/artistic folds, please, and the plainer the color, the more versatile the dress.
Of course, I should note: although you see "professional" women everywhere on television with bare legs and bare arms, you really must know your office — if you're still learning the culture, prepare to wear pantyhose, as well as a blazer or cardigan if you're walking around the office/attending meetings.
Readers, what does your perfect sheath dress look like? Have you gotten any amazing sheath dresses recently?
This post contains affiliate links and Corporette® may earn commissions for purchases made through links in this post. For more details see here. Thank you so much for your support!
Update: here are some of our latest favorite simple sheath dresses, as well as plus size dresses, and colorful sheath dresses!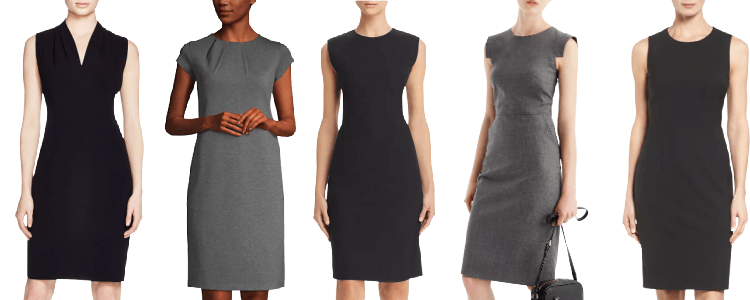 Some of the most stylish sheath dresses for work as of 2021: one / two / three / four / five (not pictured but also)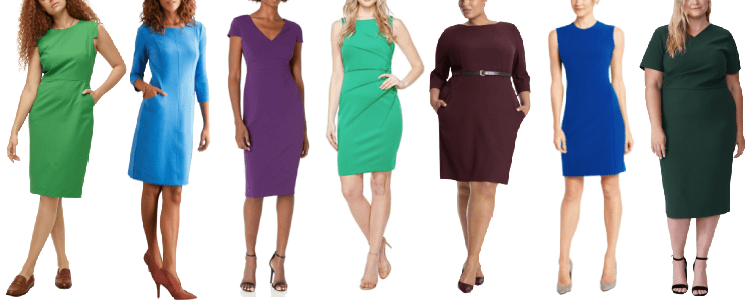 Hunting for colorful sheath dresses for work? Great bets to check as of 2021 include some of the brands featured above: 1) green* 2) blue 3) purple 4) green* 5) burgundy* 6) cobalt 7) green* (*s come in regular & plus sizes)… also this dress, this dress, and this dress (not pictured)!
(Do note: everything pictured below comes in simple colors like black, navy, or gray, but I may be showing a more colorful dress because it's easier to see the details quickly.)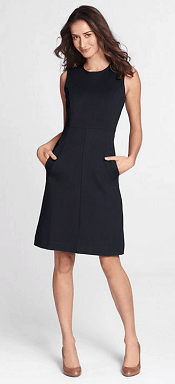 This Land's End ponte dress is a best seller, with 138 mostly positive reviews. It comes in a nice range of sizes (2-18 in regular and petites), and has pockets. It's normally priced $69, but today use code BRIGHT and pin 4520 to take 40% off, bringing it down to $41. Sleeveless Ponté Sheath Dress with Pockets
I'm always a fan of Anne Klein's EDV collection at Macy's — great quality for the price, and I've always found the cut to be very flattering to my curves. I like this cap-sleeved sheath dress — the detail at the neck is just enough to be interesting without being too memorable, and I like that the dress is fully lined. It's $79.98, available in black and "midnight sky" (pictured), sizes 2-16. If you're buying more than $99 worth of stuff, use code SPRING to bring the dress down 20% (to $64ish) and get free shipping. (It's also available in charcoal, marked down to $59.) Anne Klein Dress, Cap-Sleeve Sheath
It seems like everyone has pinkish/coralish dresses this spring, but I'm more a fan of the basic black. Still, the pink does show the details — namely, the vertical seams running up and down both sides in the front and the back, which I think would be really flattering. It's $99 and available in "red cayenne" (pictured), green kelly, and black, for $99 in regular and petites, sizes 0-16. Halogen Seamed Sheath Dress
Ann Taylor has a TON of basic sheath dresses that look great to me. I'm featuring this dress, though, because it has 61 glowing reviews, and has apparently sold out in other colors (at one point it also came in a pink). It's $128 at Ann Taylor. All-Season Stretch Seamed Sheath Dress
The Emmaleigh dress from J.Crew looks like a winner — nice high neckline, ruching details at the neck, and a fitted look throughout with darts. It's available in NINE colors, too — lilac (pictured), light blue, and "deep violet," as well as two grays, a navy, a black, and (on another product page, marked down to $148) a navy pinstripe and charcoal pinstripe. All of the dresses are Super 120s wool, all are lined, and all have slash pockets in the front. They're available in regular and tall for $188; petite sizes have a few colors available for $120. Take 25% off your entire purchase using code SPRINGBEST, bringing the full-priced $188 dresses down to $141. Emmaleigh dress in Super 120s
It's always been a bit too high-necked for me, but Theory's "Betty" sheath dress is a classic. It's available in indigo, charcoal, and black, in sizes 0-12, for $295 at Bloomingdale's. Theory Dress – Betty Sheath
Like this feature? Check out other recent installments!