Sure, we all know what wardrobe essentials for work professional women are supposed to have in their closets, but if you're buying one for the first time or replacing one you've worn into the ground, it can be a pain to find exactly the right incarnation in stores. In "The Hunt," we search the stores for a basic item that every woman should have.
Sleeveless tops are a basic in every woman's work wardrobe — but which ones are the best? These are some of the best-selling styles we've mentioned in the past, all rounded up in one place — I'd love to hear your favorites that aren't included here.
As I've noted in the past, these aren't necessarily my favorite tops to wear under blazers or other dry-clean-only clothes — call me a weirdo, but I like to have sleeves (even short sleeves) to better separate my body from the clothes that need expensive cleaning.
(You may want to check out our post on the best tees for layering if that sounds more like your speed.)

Above, the best women's t-shirts for layering at the office as of 2021: elbow scoop / v-neck / scoop / long-sleeve / elbow (not pictured but also)
That said… a sleeveless top is much better for layering and creating clean lines beneath cardigans and blazers. I like that all of these tops cover the bra strap entirely; they also have pretty high arm holes and relatively high necklines — they're very different from camisoles we've featured in the past.
(As we've cautioned in the past, know your office — sleeveless looks aren't always considered professional or conservative enough by themselves; only layered beneath things.)
Readers, which are your favorite sleeveless tops for work — and how do you wear them? What's your preferred price range (most of these are under $50!) — and where do you buy your sleeveless tops?
Update: these are some of the sleeveless tops that we've loved for years…
Some of our favorite sleeveless work tops in plus sizes are below: black / blue / white / pink — also check out this collared top and this camisole (but know your office before wearing without a blazer or sweater)!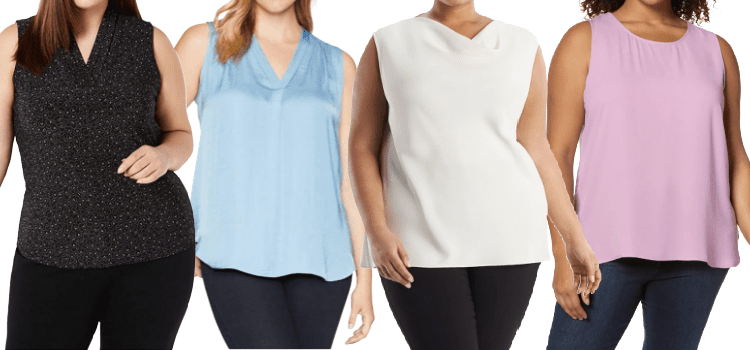 This post contains affiliate links and Corporette® may earn commissions for purchases made through links in this post. For more details see here. Thank you so much for your support!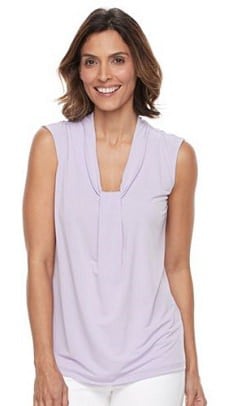 Readers recommended this super affordable sleeveless top from Kohls' a while back, and I've been impressed by how many iterations I've seen of the same top since it came on my radar: it's always got a zillion new prints and colors available. Most of the prints aren't necessarily my taste, but if you see one you like snap it up because they change frequently. The tops are available in regular, petite, and plus sizes for $15-$35. Dana Buchman Knot Front Top (also try this link)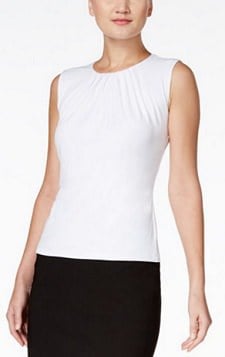 I remembered that we mentioned this top recently — but looking today I'm surprised to see that we were talking about it as long ago as 2012. The Macy's description notes that it's unlined, but if you look at the back of the shirt it does look like the front is double-lined. I knew the shirt came in black and white — I did not realize Macy's has a zillion other colors (I particularly like this windowpane). The top is available in regular and petite sizes 2-16, as well as plus sizes for $25-$59. Calvin Klein Sleeveless Pleated Top
This inverted pleat top from Vince Camuto has been around for a few years and has a great blousy look if you don't like close-fitting tops. It's currently available in a ton of colors at Macy's for $32. Inverted-Pleat Blouse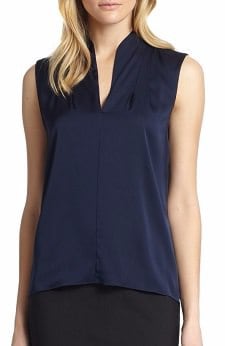 This silk blouse has long been a best-seller at Saks and Bloomingdale's — I love the high collar paired with the deep V. It's available in basic colors for $178 in XS-XL. Judith Silk Blouse
Like this feature? Check out other recent installments!
Social media images (woman in yellow sleeveless top) via Deposit Photos / xcai.
This post contains affiliate links and Corporette® may earn commissions for purchases made through links in this post. For more details see here. Thank you so much for your support!