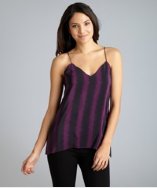 2015 Update: We still stand by this advice on having bare arms at work, but you may also want to check out our latest discussion on the sleeveless professional look. 
Can you have bare arms at work? Are shells and tanks acceptable to wear under jackets? As everyone's layering for fall, this seems appropriate to discuss now, and Reader K brings up this age-old question…
I graduated law school in May, and am currently a federal law clerk. My mother, who is an attorney, my sister, a law student, and I have been debating whether sleeveless tops are appropriate work attire for attorneys. I have an ivory silk blouse/shell/tank that I love, but my mother feels is only appropriate if I never take off my suit jacket.

I wore it to chambers with a black skirt suit last week. Normally I wear my suit jacket throughout the day, but that day it was over 80 degrees in chambers…so naturally, I shed the jacket while working. The judge came to give me something while I had the jacket off and while I would have liked to have the jacket on when interacting with him, I shrugged it off considering his office was uncomfortably warm as well. What do you think of the top? Is it appropriate for work? With or without a jacket or sweater over it?
For the record, I prefer wearing sleeved shirts under jackets — in addition to sidestepping the "bare arms" conundrum, it also makes laundering easier by protecting the underarms of your jackets or sweaters.. But I'm really curious to hear what the readers say, so I thought we'd do some more polls to try to close in on what it might be that has historically made sleeveless tops so offensive. Is it strappiness/amount of bra showing? Is it a "this is underwear" vibe to simple camisoles? (Not on the poll:  lacy camisoles and skin-colored camisoles, both of which I'm against for anything but underwear (as in, kept underneath).  Whether worn by themselves or just as a layer to raise the neckline, they look too much like underwear for the office.)  There are other dimensions here also — looseness?  fabric?  What factors are you considering when you say something is or isn't acceptable, other than a gut feeling (and the all-important caveat, know your own office!)
So I've picked four camisoles below in variations of strappy and blousy.  Remember, the question is which tops are acceptable to wear BY THEMSELVES, not just as a base layer….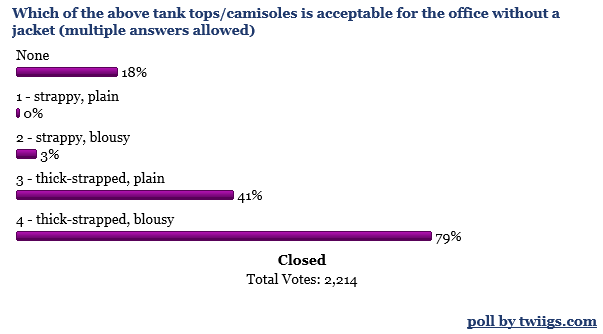 For my $.02, #1 is the perfect camisole for layering under something — but does not look the best on its own. #2 looks great on the weekend, and I think there is probably where it should stay. Numbers 3 and 4 don't look horrible, but to my eyes a sleeved version would just look better and more appropriate in both instances, and so the sleeved version is what I would advise readers to build your wardrobes around.
Readers, what are your thoughts re: being bare-armed in the office? What factors matter when deciding whether a top is acceptable (other than know your own office)?
(L-5)