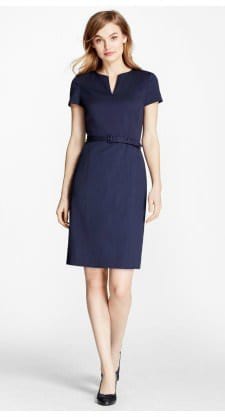 2018 update: We still stand by this advice on where to find fair trade and ethical clothing for work, and links have been updated below. You may also want to check out our Guide to Slow Fashion.
In our first post in our ethical shopping series, we rounded up several clothing brands made in the United States, mostly startups and small and/or independent labels, and in part two, we shared a list of mainstream, more widely available workwear brands that sell clothing made in North America or Europe. Today we're looking at clothing that's fair trade certified, as well as clothing not officially considered fair trade but produced more responsibly or ethically than the average brand.
Of course, when a brand makes admirable claims like those, we as shoppers simply have to take their word for it — but I would rather give my business to a company that states that it's committed to ethical labor practices and fair trade than to one who doesn't say a word about its products' origins or production. (Pictured: Brooks Brothers Stretch Wool Sheath Dress, $158.)
Fair trade certification is more complicated than you might think; there's more than one certifying organization, and each has a slightly different definition of the term "fair trade." It's also possible that we may not be doing as much good as we think by buying these products. Ndongo Sylla, a former Fairtrade International employee with a PhD in developmental economics, wrote a book called The Fair Trade Scandal: Marketing Poverty to Benefit the Rich (excerpt here in The Guardian). In The Economist's book review, the reviewer called it "an arduous read" but wrote, "It is hard to dispute [Sylla's] conclusion that, so far, the fair-trade labelling movement has been more about easing consciences in rich countries than making serious inroads into poverty in the developing world." (Sigh.)
That said, here are several brands that engage in fair trade:
Fair Trade Fashion 
Imported But Ethically-Made Clothing (may not be "fair trade")
Resources
The app Good on You (iPhone and Android) gives ethical brand ratings for 1,000+ fashion brands. (Note that you must create an account.)
You can see which companies are members of the Ethical Trade Initiative (and find out what that entails) on their website. A few examples are ASOS, Boden, Burberry, Gap, H&M, Hobbs, and Reiss. That's not a guarantee that you can trust all of the companies' clothing is ethically made, but at least you'll know they're working on it.
Fair Trade sites: Fair Trade USA, Fair Trade International, Fair Trade Federation. You can also search Nordstrom specifically for "fair trade" items (just don't expect to find any workwear).
Is it important to you to buy fair trade clothing, chocolate, coffee, or other items? How much does it matter to you where and how the things you buy are made?