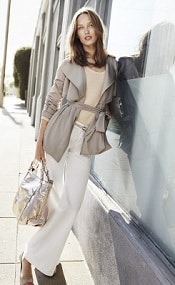 Gap is introducing a new exciting kind of sale on March 5:  the Flashion sale. This is great news for you if you've been addicted to the "flash sample sale" craze that has been sweeping the Internet for a few years now — except with this campaign, there will be one must-have item of the season on sale, for one day only, in stores, at a special price.
The first must-have item for the first Flashion sale? This great Soft Trench from Gap, available in both gray (pictured) and black. Normally $89.95, it will be marked to $50, in stores, for one day only — March 5. The belted trench is always a classic, and I think this one would look particularly great as a light spring jacket with a pencil skirt on the bottom, or a pair of fitted pair of trousers — and it feels like it would instantly make a "working on the weekend" outfit of skinny jeans, flats, and a t-shirt that much more professional. Readers, how would you wear it?
This post is sponsored by Gap, but written by your regular blogger, Kat Griffin.