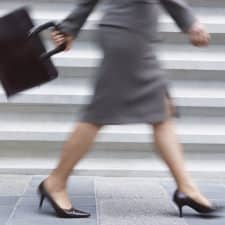 What's the best advice for how to stop skirts from twisting around? Is it a slip problem, a skirt problem, or a sizing problem? Reader C asks a question about a problem that I know I've experienced: the rotating skirt. I did some digging to find some solutions, and spoiler alert: one of the tips on how to stop skirts from twisting around blew my mind. Here's Reader C's question:
What slips do you recommend under work (suit) skirts? And how do you prevent the skirt from "spinning" around while you walk to and from the train? I like the lightweight Commando slips, but I cannot seem to keep my suit skirts from spinning around while I walk, and it takes the slip and tucked in blouse with it (and bunches up unattractively). Is this a slip problem or a skirt sizing problem? Help!
VERY interesting question, C. I always hated when this happened to me — nothing screams professional like arriving at work with your skirt twisted around so the zipper (and vent!) is in the front. (BTW, PSA for the newbies to officewear: if your vent is sewn shut with an X you should rip the X to open the vent.) I had one favorite skirt where this was particularly problematic — I eventually decided it was because it fit my hips, but not my waist — and tailoring did help keep my skirt from twisting around.  So my initial response would be that, if you need to stop your skirt from twisting around, check the fit of the skirt before anything else. 
Looking around the web it seems like the problem of the skirt twisting around may also be due to a few other factors, though:
where the skirt sits on your hips — a lot of forums and blog posts mention that if the skirt sits on your hips (versus sitting at your natural waist) it's more likely to twist — but this may then produce a problem where tailoring results in skirts that are too short for work. (As a reminder, in our last discussion about when a dress is too short for work, most readers liked position C, or right at the knee, instead of just above it — but the latest discussion has lots of interesting comments, particularly from taller readers, so do check that out if you have a question about it.)
the shape of the skirt — pencil skirts are the worst offenders, particularly if they're shaped like rectangles
the lack of a waist band — if the skirt doesn't have a separate waist band that may be the problem
if you're carrying a bag that sits at your hips — I wonder about this one, but a lot of the other articles on the topic note that if you're carrying a bag that sits at your hips it can cause rotation. But in my own experience there's no correlation — I almost always carry a shoulder bag that sits above my hips, and some skirts twist around anyway, while others don't twist around at all.
Some other things you can try if tailoring every single pencil skirt you own is out of the question:
buying skirts with lining built in (so at least you don't get the bunched-up slip problem)
safety pins
a belt — a skinny belt like this one (affiliate link) can be a great look anyway, and hey, if it's a style secret from Selina Meyer you know it'll be good
WHOA: Refinery 29 has a super clever tip, particularly if you're a fan of Jockey slipshorts (they're a reader favorite for a reason!), tights, pantyhose, or other underpinnings that are firmly anchored to your body and have enough fabric that you can yank them up a few inches over the waistband (the video is super brief and makes it very clear what to do). Seriously, #mindblown.
Jean at ExtraPetite has the 411 on some menswear tips, including rubber grippers
Readers, do you have a problem with your skirts rotating on you? What is your best advice for how to stop skirts from twisting around — do you use any of the methods above, or do you have a method to stop skirt rotation that's all your own? 
Further reading:
Picture credit: Shutterstock / sirtravelalot.