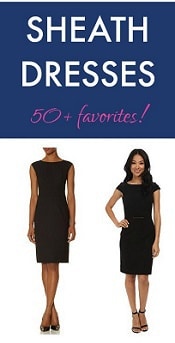 2019 Update: We still stand by this roundup of stylish sheath dresses — but you may want to check out our most recent discussion of the best dresses for work!
Sure, we all know what basics professional women are supposed to have in their closets, but if you're buying one for the first time or replacing one you've worn into the ground, it can be a pain to find exactly the right incarnation in stores. In "The Hunt," we search the stores for a basic item that every woman should have.
We haven't done a roundup of sheath dresses in almost a year (2014, 2013), so I thought we'd do one today. For my money, the best sheath dress for work has:
a work-appropriate hem length (with no slits to compromise that — test with the mirror trick!)
a high enough neckline and shoulder situation that you don't need to give any extra thought to which bra to wear
a dark, neutral color like black, navy, or dark charcoal
And — for me at least — I think a sleeveless sheath dress is best because it looks best beneath blazers and cardigans.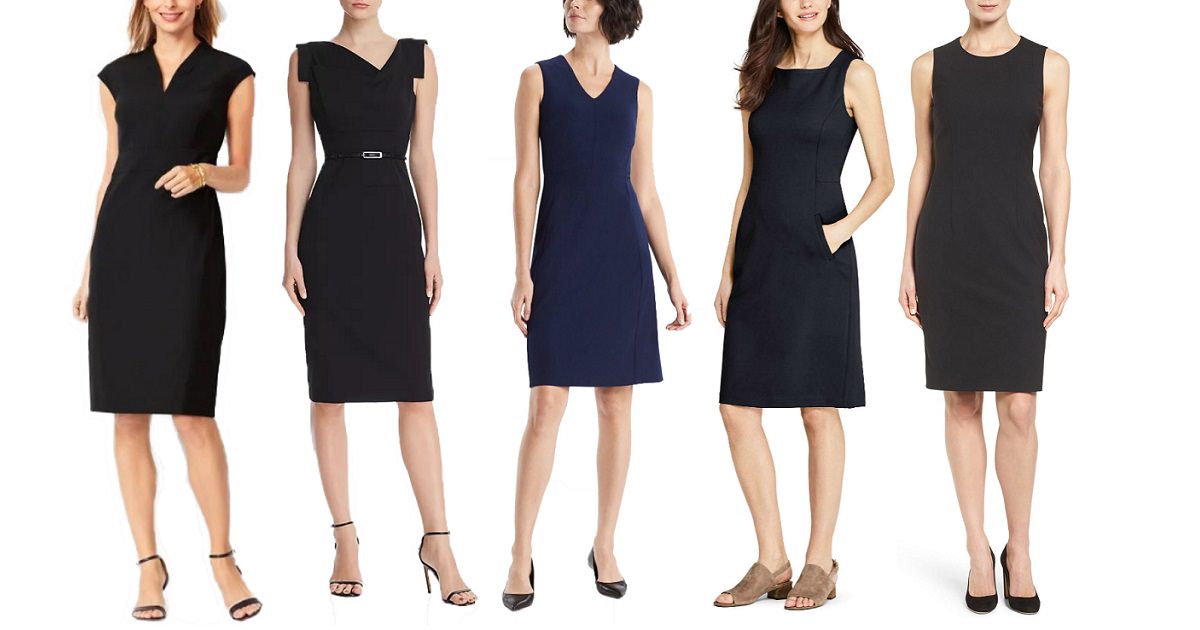 Hall of Famers: one / two / three / four / five
Ladies, what do YOU look for in a great sheath dress? Have you bought any great ones recently, or worn any classics into the ground?

The Limited has several of their Collection sheath dresses on sale today. I like the high neckline, work-appropriate length, and the interesting (but not too low) back V-neck. I also like that both of these Collection dresses are machine washable. The pictured dress is available in sizes 00-18, as well as petite and tall sizes, for $58.80 today (down from $98). Collection V-Back Sheath Dress
While including links to the Hall of Famers, I was surprised to see that the J.Crew Origami dress seems to be no more — it had a such a long run. I like the look of this ladder stitch dress in cotton, which comes in a dark navy as well as this pretty mint, as well as coral and evergreen. Pockets, lining, nice high neckline, available in petite, tall, and regular sizes 00-16, huzzah. It's $168. Ladder Stitch Dress in Bi-Stretch Cotton
I've been eyeing this nice Ted Baker dress for a while for a TPS report, but something less basic always seems to edge it out. I like it a lot though — again, nice square neck, cap sleeves, work-appropriate length — it differs from the dress above in that this one is a wool blend. It's $275 at Nordstrom. Ted Baker London 'Miakod' Wool Blend Sheath Dress
Like this feature? Check out other recent installments!
—————
N.B. These substantive posts are intended to be a source of community comment on a particular topic, which readers can browse through without having to sift out a lot of unrelated comments. And so, although of course we highly value all comments by our readers, we're going to ask you to please keep your comments on topic; threadjacks will be deleted at our sole discretion and convenience. Thank you for your understanding!