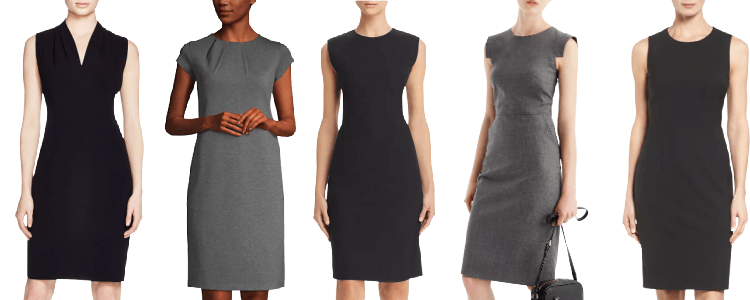 Some of the most stylish sheath dresses for work as of 2021: one / two / three / four / five (not pictured but also) 
Sure, we all know what basics professional women are supposed to have in their closets, but if you're buying one for the first time or replacing one you've worn into the ground, it can be a pain to find exactly the right incarnation in stores. In "The Hunt," we search the stores for a basic item that every woman should have.
The sheath dress: it's one of the most stylish work dresses a woman can have, and if you buy the right dress, it can be a workhorse for your wardrobe, whether your office is formal or business casual.
Get one that matches your blazer and wear it as a suit! Top it with a fun blazer (like this morning's) for a more casual but still formal look, or with a cardigan or denim jacket for a more casual look.  
Layer it in colder weather with a light jersey turtleneck, a crisp collared blouse, or even a long-sleeved jersey tee that best matches the neckline (or, ahem, raises it where it needs to).  
It's hard to go wrong with the sheath dress, but watch out for these pitfalls when buying it: is the cleavage too low? is the hem-length appropriate? does it have any trendy detail that will make it more memorable and thus less wearable in regular rotation (exposed zipper, embellishment at neck, etc)? is the slit too high? does it look "tailored" (good) or "body conscious" (less good) to you? is the back inappropriate for work?
(In general, look for a high neckline in the back, not a scoopneck in the back or other "tank dress" type of vibe. Definitely nothing cut like a halter, at least for a traditional sheath dress in a conservative office.)
Once you've purchased it: make sure you cut your vents. Hang it up immediately after each wearing and let it air out a bit.  If it's part of a suiting set, be sure to dryclean all your pieces together so they show the same wear and tear.
(While today's feature is focused on sheath dresses, fit and flare dresses can also be workhorses; our last roundup is here.)
Update: here are some of our latest favorite stylish work dresses in regular and plus sizes, as well as colorful sheath dresses!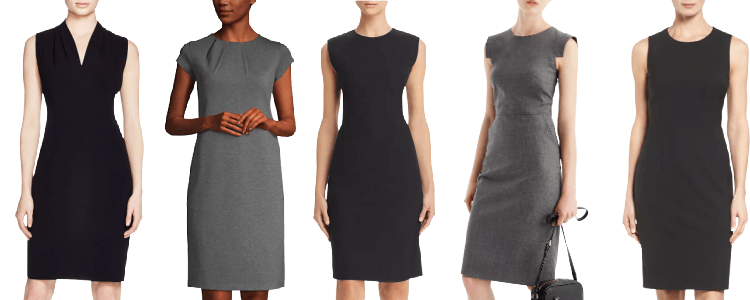 Some of the most stylish sheath dresses for work as of 2021: one / two / three / four / five (not pictured but also) 
This post contains affiliate links and Corporette® may earn commissions for purchases made through links in this post. For more details see here. Thank you so much for your support!
Curious for past roundups of sheath dresses? Here they are from 2015, 2014, 2013, 2012, and 2011. For other sizing issues you may want to check out our last discussion on bespoke dresses, which you can order fit exactly to your measurements.
Note that even if a color is shown below, all of the featured dresses also come in black.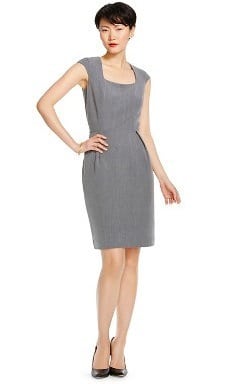 First up, this gray twill sheath dress from Target's Merona brand for $29. It's available in gray, black and navy; it has a matching blazer, and it has four star reviews (some reviewers had issue with fit). There were a lot of affordable dresses vying for the top spot here (see how long our "under $100" category is above!), but I liked that this one also has a blazer. (The blazer comes in plus sizes, as do the matching pants, but the dress doesn't seem to, alas — but note that the dress is available up to size 18.) Bi-Stretch Twill Wrap Sheath Dress – Merona™

(Target has a few other nice looking dresses if you're there — this ponte sheath dress also looks nice and is highly rated (and I still wear the Merona dresses readers turned me on to years ago); this scuba sheath dress looks nice and has sleeves, and this fit and flare dress is also very tempting for $29.
This Ann Taylor dress is part of its' all-season stretch line, meaning it also has a matching blazer — and like everything else over at Ann Taylor today it's 50% off, bringing it in at number two today. (I'm seeing tons of affordable, classic options today!) It's available in regular, petite and tall sizes, 00-14 — it was $139 but comes to $70 with code CYBER50. (!!) All-Season Stretch Seamed Sheath Dress

(A few other selections from the sale: this gorgeous sheath dress in light purple and green, the very popular Eryn kitten heels, and this large tote. If you, like me, are also craving a Chloe flap bag, this shoulder bag is an acceptable dupe.)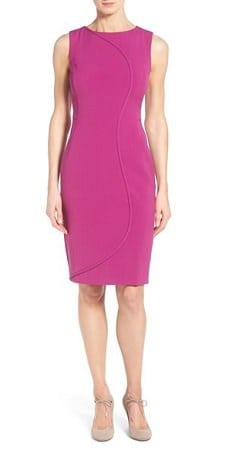 A pink sheath dress can be a bit much, but you can really clearly see the seam detail here — and I like the seam detail. (It also comes in black and a Claire Underwood-approved white.) As noted above, of course, a little detail like this may not be what you're looking for if you have a very small wardrobe — it takes it from "building block of your wardrobe" to "geez didn't she just wear that dress yesterday?" — but if you've been around the block a few times it's also the kind of detail that can be a fun addition to your wardrobe. The dress comes in regular and petite sizes, 0-16, for $98; it's fully lined and has a hidden zipper in back (huzzah). Halogen® Seam Detail Sheath Dress
I liked the look of this dress when we featured it in a dark green last fall — and I always take it as a good sign when they bring it out again in other colors, including black, cobalt, and (ooh!) a polka dot and a floral. It's too soon to call it a "Hall of Famer," but I'm watching this one. I like the sleeves, the deep V, and the semi-vintage vibe — for $138 it's all pretty good. It's available in sizes 0-14 at Nordstrom. Betsey Johnson Puffed Sleeve Scuba Sheath Dress
Theory is great (and their Betty is always a good choice), but for modern classic workwear, another brand to watch is Vince. This dress gets rave reviews, particularly as a packable dress (i.e., throw it in your suitcase and pull it out without too many wrinkles). It's available in sizes XS-L. Vince Knit Shift Dress
Last Call has some great sales on sheath dresses right now, including this lovely leather-trimmed number from St. John's. I like the tweedy texture, the leather details, and the overall classic vibe (high neckline, high back, etc). They say to "compare at $1,045," but today with various discounts it comes to $530. Nice. St. John Textured Sleeveless Dress W/Leather Trim
Like this feature? Check out other recent installments! And please feel free to Pin it if you like it!