For busy working women, the suit is often the easiest outfit to throw on in the morning. In general, this feature is not about interview suits, which should be as classic and basic as you get — instead, this feature is about the slightly different suit that is fashionable, yet professional.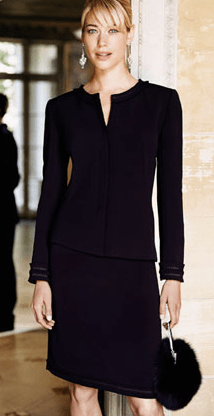 We know, we know: not everyone here is a size four. But if you ARE, then it is your lucky day, because that is the only size left available for this week's Suit of the Week. (We normally don't like to be so exclusive, but, hello, the suit was gorgeous and the only one even slightly interesting this week.) This lovely Albert Nipon suit in the almost-neutral color of raisin has clean, flattering lines — in fact, it is so clean that we can even let the tonal trim pass, despite the fact that it might be interpreted as frilly on any other suit. And the discounts, ye gods! It was marked at $380 at Neiman Marcus, but is now marked at $152. Take another 25% off at checkout, and it comes down to $114. Lovely.  Albert Nipon Pleated Suit
P.S. Please try to ignore the small furry handbag the model is carrying.