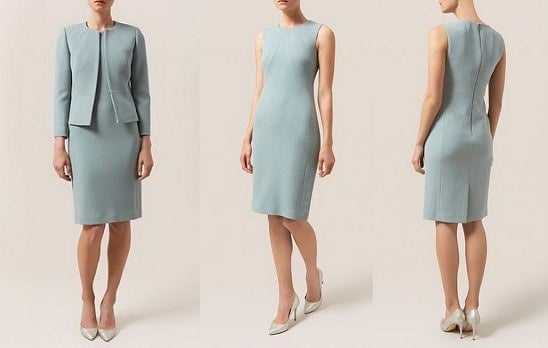 For busy working women, the suit is often the easiest outfit to throw on in the morning. In general, this feature is not about interview suits for women, which should be as classic and basic as you get — instead, this feature is about the slightly different suit that is fashionable, yet professional.
Yes, this suit is lovely in its pale blue iteration — but I have even better news for you: it also comes in black. (I usually feature the more colorful version of the item because it shows the details better.) I love the darts at the top of the suit and the dress, the lack of a collar (very hot right now), and the bracelet sleeves. The lining is polyester, but the rest of the suit is 100% wool. The jacket (Hobbs Aphra Jacket) is $480, and the dress (Hobbs Aphra Dress) is $395.
Here's a lower-priced option (although it's a pantsuit, not a skirt suit).