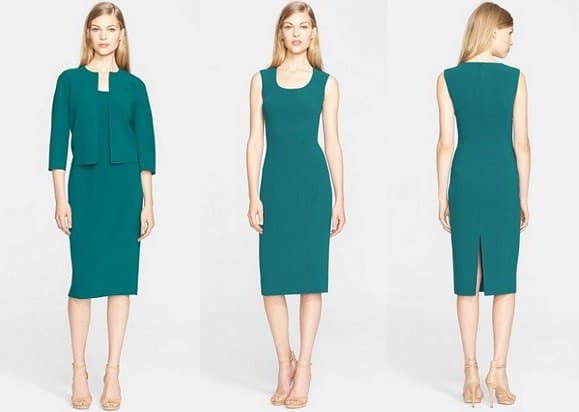 For busy working women, the suit is often the easiest outfit to throw on in the morning. In general, this feature is not about interview suits for women, which should be as classic and basic as you get — instead, this feature is about the slightly different suit that is fashionable, yet professional.
This suit definitely falls in the "fun" category, but man: love that dark teal color — talk about unusual!  I like it as a suit, but I think both pieces would get a lot of wear as separates as well.  Lovely. The jacket (Michael Kors Wool Crepe Jacket) is $1,395 and the dress (Michael Kors Sleeveless Stretch Wool Crepe Dress) is $1,595.
For more affordable options: the dark blue Theory suit we featured a month or so ago is now on sale, and this emerald Nipon Boutique blazer comes in both regular and plus sizes.