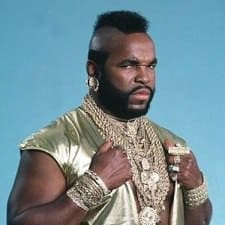 2018 Update: We still stand by this post on how much work jewelry to wear and links have been updated below; in a semi-related discussion you may want to check out our discussion on when to upgrade you engagement ring.
Ladies, how much work jewelry do you wear? Do you tend to lean towards "too much" or "not enough"? Where do you think the line is? How do you avoid getting into a rut with your jewelry? As I draft this post I realize this is something I've struggled with, so I'm curious to hear what readers say. (Pictured: I pity the fool who thinks this isn't enough jewelry for work! Sorry, had to…)
(Psst: in the past we've written before about my jewelry collection for work, how to wear jewelry for work if your style isn't particularly feminine, and how to mix metals with your work jewelry.)
For my $.02, I've always been a bit of a jewelry minimalist — three pieces of jewelry struck me as the right amount for daytime, for whatever reason. This changed a bit when I got engaged and started wearing my diamond ring on the regular. It meant I stopped wearing other rings, and it meant I tended to lean more toward my silver/white gold jewelry (my rings are platinum) versus my yellow gold jewelry or rose gold jewelry. Add a good watch in the mix, and you're left with a problem — your work jewelry choices are either very boring (because only one piece changes), or you're suddenly wearing a ton more jewelry.
Here are my general thoughts on work jewelry, just to throw some spaghetti at the wall to see what sticks: