Sure, we all know what basics professional women are supposed to have in their closets, but if you're buying one for the first time or replacing one you've worn into the ground, it can be a pain to find exactly the right incarnation in stores. In "The Hunt," we search the stores for a basic item that every woman should have.
'Tis the season for stores to start selling beige and blush-toned shoes. First, Piperlime had a round-up of "blush" shoes. Then, I noticed Saks has a collection of "nude" shoes, then Bloomingdale's emailed to advise me to "rock the new neutral pumps", then I got a similar e-mail from Dillards. Neutral shoe overload!
I thought I'd collect some of my office-appropriate favorites from this season. (Update: these are our latest favorites!)
This post contains affiliate links and Corporette® may earn commissions for purchases made through links in this post. For more details see here. Thank you so much for your support!
(This is turning into a yearly feature on Corporette — see our roundup of neutral shoes, as well as our beige shoe roundup — and don't forget to check out our discussion on nude shoes for all skintones.
Readers, have you bought any neutral shoes lately? Please report in — which brand, how much, comfort level, etc…
The below content concerns products that are probably sold out…
I like this low-heeled slingback from Aldo — for $60 they're a great way to sample the style, and the bone color is lovely. Available at Aldo (with free shipping on all orders through today) for $60. Aldo Harnan Heels
Some people love Nine West — and others hate their shoes with a passion. If you're in the "love" category, this is a great basic pump in taupe leather — the wooden heel is a nice touch, as well. It's $75.95 at Zappos (also available in black leather and a black floral print fabric). Nine West – Aster (Taupe Leather) – Footwear
Johnston & Murphy had one of our favorite neutral pumps from last year's round-up, and here they are again — I'm not normally a fan of cork soles, but it works here. The heels have a 1″ platform and a 3 7/8″ heel, and they're $178. (Note: Johnston & Murphy currently has a deal going where if you buy one, you get one pair 50% off.) Emily High-Heel Pump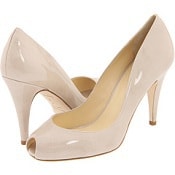 I like the way the leather dips and curves along the sides of these Kate Spade shoes. They're $275 at Zappos Couture, available in red suede and black patent as well. (Remember, peep toes are not appropriate for all offices — know your office!) Kate Spade New York – Dip (Linen Patent)(In fact, if you like the color but not the shoe, Kate Spadehas a ton of different shoes in this shade of "linen.")
Love the lower heel, the suede and mesh combo, and (mais oui!) the Louboutin signature, the red leather sole. The glowing reviews on the Saks site don't hurt either. They're $695 at Saks Fifth Avenue. Christian Louboutin Mireille Suede & Mesh Pumps
Like this feature? Check out our other round-ups of closet staples for the working woman! Also, don't forget to check out our Guide to Comfortable Heels. Curious about other editions of this roundup? Check them out here: 2019, 2018, 2017, 2016, 2015, 2014, 2013, 2011, 2011, 2009, 2008 (awww, just a few weeks after the blog was born).