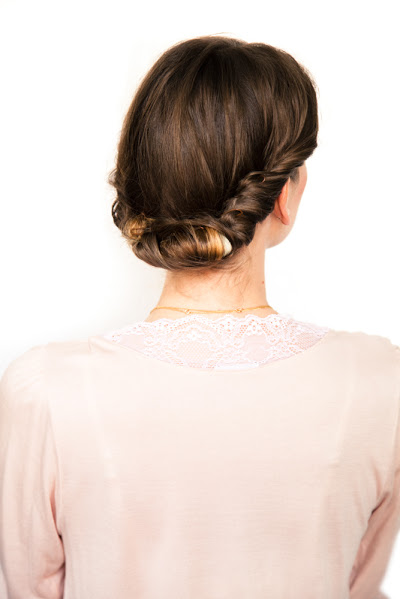 2018 Update: We still love this conversation about work-appropriate up-dos — but you may also want to check out our more recent discussion about 14 great YouTube tutorials for updos!
I don't know about you, but I end up pulling my hair back a lot in the winter — the frizz, the hat hair, etc., etc. I always used to keep a few bobby-pins and other pretty hair supplies in my office so I could pull it back once I got into work, but I never made it all day in any one up-do because it started to hurt. It even feels weird to write that — your hair hurting you — because I've never seen anyone talk about it in magazines, but after an hour or two my head and scalp would start to hurt, and I always seemed to end up with a headache.
Probably the longest I've ever made it in one updo was while carrying out bridesmaid duties, and I remember vividly getting home each time and ripping out the hundreds and hundreds of bobby pins (or so it seemed) stuck in my hair. Ahhh… relief!
(Pictured: A Gibson Roll, from the tutorial by A Cup of Jo.)
So the notion that you could wear an up-do in a "looser" way was, amazingly enough, a game changer for me. I was puttering around on the Interwebs and found this tutorial by style blogger Keiko Lynn.
In it, she talks about how she does her trademark messy bun, and — shocker of shockers — how she pulls her hair back tightly into a ponytail and then "loosens it" by pulling her hair forward a bit before tightening the ponytail holder. It makes more sense when she explains it, promise (it's nearly all the way at the end of her tutorial).

Anyway, for some reason this never occurred to me — a "looser" updo — and so now I feel like I should revisit almost all of the updos I've tried over the years and try them again. Another blogger, Joanna Goddard at A Cup of Jo, has a few cute ones that might be good for the office, including the Gibson Roll (pictured at top) and a Chestnut Bun.
This is a reader favorite clip!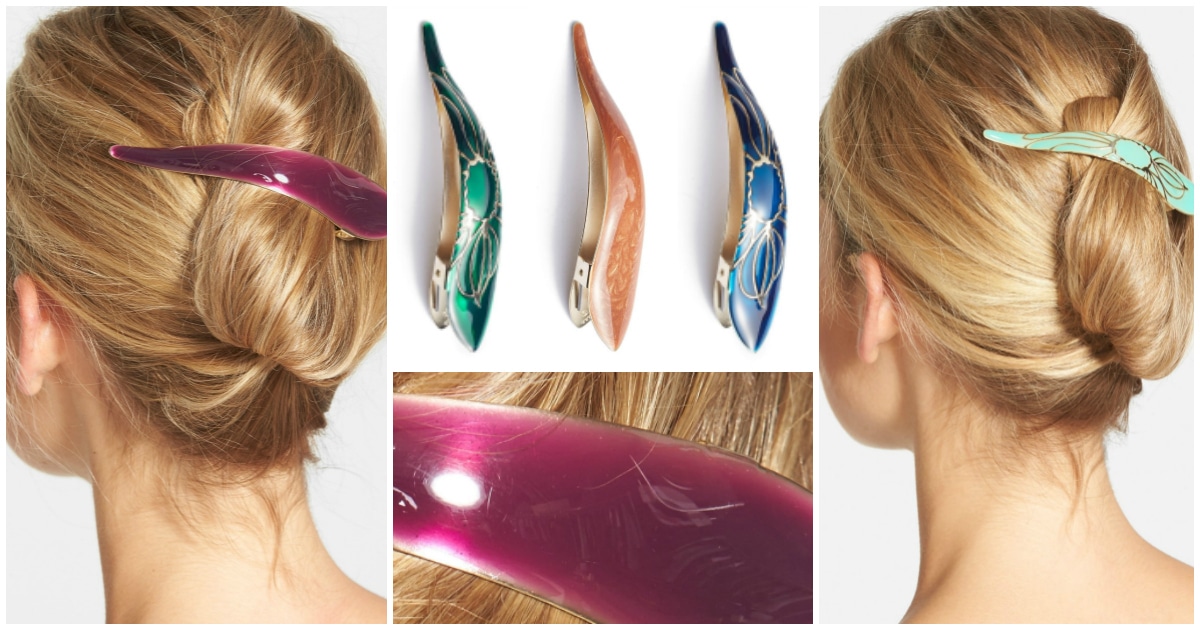 On the weekends, I've also been experimenting with braided looks (a bit like this, though pulled back into a bun), although I'm not sure whether they feel 100% office appropriate to me or not (or, ha, whether I'm too old for the look or not).   I'm still playing with the Goody Spin Pins beloved by so many readers, and I have only failed miserably while attempting a sock bun (I think I have too many layers to make it work, boo).

Readers, what work-appropriate up-dos do you do for the office? Do you think some of the popular looks right now, such as braids and topknots, are appropriate for work?