Reader A has a question about what pants she should buy right now — so let's discuss. What pants trends are you seeing? Where do you think pants trends are heading for the next few years? Which of the trendy dress pants for women are you buying right now? Here's her question:
Help! Work pant styles seem to be changing (wide leg! trouser style! they're back!) and I'm about to invest in a few new pairs due to weight changes but can't decide whether to replace them with the slim cuts that were stylish in the last few years or something else. Where are the trends going? Would love a post
I have long had a theory that workwear is influenced by denim trends, in large part because you get used to the volume differential. Skinny jeans and tunics leads to tighter ankle pants and longer, looser blouses and sweaters. Bootcut, flare, and wide-leg jeans and tighter tees (baby tees in the 90s, bodysuits now) are going to lead to more fitted tops at the office. A good example: the waist-length or cropped cardigans we're seeing (versus the longer cardigan styles we've seen the past few years).
So what's in style in denim right now? The big thing that I keep reading is going away is skinny jeans. But I'm still seeing a ton of them in the stores — and as we head into holidays I'm even seeing seasonal skinny jeans in leather, velvet, sequins, and more. So I think skinny jeans are still in — I wouldn't invest major amounts of money in them, but if you have an outfit you like I still think you can wear it.
At the same time, though, wide leg, loose jeans are very in — and bootcuts — and crops — and flared bootcut crops — and slits. So… I think it's fair to say that anything is still in.
(Add to this, of course, that the street does not look like the runway — people tend to keep wearing things after they've gone out of style, only adding one or two new pieces at a time.)
How to Decide What Pants to Buy When Trends Are All Over the Map
So where does that leave you for workwear, particularly pants? If you're buying a few new pieces to bridge the gap in your weight difference (whether you're losing weight and just passing through the size, or have gained weight temporarily and intend to lose it), here is what I would consider buying for work pants right now.
What is your commute like? Full length pants can stink in slush and rain — to be honest, I've always worn skirts or dresses instead of trying to deal with full length pants in the rain. If you're trudging through rain, slush and snow on a regular basis for your commute, you may want to reconsider buying some of the trendier, longer styles out right now.
How varied are your shoe heights? Assuming your previous shoes still fit, take a look at how varied the heel heights are. Do you wear flats one day and 4″ heels the next? Do you commute in flats and change into higher heels at the office? Again, with full length pants, getting the hemming just right can be a pain — and you generally have to pick a specific shoe while you're getting it hemmed. That can be limiting, which may or may not work with your existing shoe wardrobe.
What tops do you intend to pair with the pants? If all of your workwear tops are going to look best with ankle pants because that's what you've always worn… I might just get another pair or two of ankle pants and call it a day. On the flip side, if you've been buying more fitted tops for work and play, you might want to look into some of the wider pants styles.
How trendy do you want to be — and how? I'd say there are a few big trends we're seeing in workwear as well as streetwear.
1) Monochromatic dressing with huge attention to texture
2) dopamine dressing with bright colors to influence your moods
Trendy Dress Pants for Women: Texture Dressing
So again – consider the rest of your wardrobe. If you're going to shoot for the first trend, do you need your pants to bring texture — or can they be matte? If you need texture you're going to be limited to what's available in velvet, corduroy, and tweed in fall. I partly feel like this is why faux leather styles are so popular right now — but know your office and yourself before you buy them.
Trendy Dress Pants for Women: Dopamine Dressing
On the flip side, if you want to try some dopamine dressing, this might be a good place to double down on the trends — get a bright pair of wide-legged pants to hit both trends.
A few good options for colorful pants for dopamine dressing:
Hunting for colorful pants for work? They're very popular everywhere for 2023 — but note that in general brands like Rekucci, Krazy Larry, Banana Republic, BR Factory Express, J.Crew, and Boden have a ton of options; here's a mini-roundup of what's out there right now:
Hunting for more wide-leg pants to wear to work? We just rounded some up — general favorites include pleated pairs like Favorite Daughter, Everlane*, Reformation*, and Abercrombie*, with flat-front pairs from Good American,* M.M.LaFleur, and Ann Taylor. (* = plus sizes; see the post for notes on petites and talls). Latest favorites include these (as of Sept. 2023):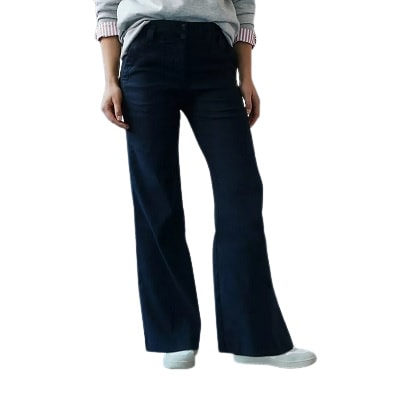 Some of Our General Favorite Pants
Historically, these have been our favorite dress pants for women… these are still in stores right now, and have been in stores for a long time — odds are many women you work with will have these pants, so you'll fit in.
Hunting for curvy pants? As of 2023, you can find them at Ann Taylor (regular and petite sizes 00-18), Banana Republic (0-20, 00P-14P), Banana Republic Factory (00-20, 00P-14P, 00T-20T), Loft (regular, petite, and tall sizes 00-18), Express (regular, short and long sizes 0-18), and White House | Black Market (00-18, regular, short, and long). Talbots also offers some options in sizes regular, petite, plus, and plus-size petites as does Lane Bryant.
Some Comfortable Pull-On Pants for the Office
If comfort is a high priority for you, these are some of the reader favorites for comfortable pull-on pants…
My $.02
Here's my best advice: regardless of the trends, I'd go for established shapes that have been around for a long time. Ankle pants? Check. Straight pants? Check. Bootcut or flared pants? Check. Wide leg pants? Check. High rise, regular rise, check, check.
The trends I would avoid are the newer ones – front slits in your pants, side slits in your pants, cropped wide leg styles, sailor-style pants, puddle pants, and so forth.
Readers, what are your thoughts? Which of the trendy dress pants for women are you buying right now? If you NEEDED to buy new pants for work right now, what would you buy?
Stock photo via Stencil.