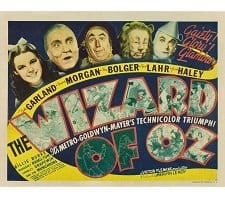 Is a vintage movie poster professional enough to hang on your office wall at a new job? Reader E wonders if movie posters are acceptable office decor…
I just changed jobs and now have a ton of wall space. My mom graciously had a vintage Wizard of Oz poster professionally framed for me. I haven't found a place for it in my house — is it too "cutesy" for work? (Pictured: Reader E's poster.)

I work in state politics. As far as mirroring my boss — she has pictures of her family on the walls, some awards, etc. Alternatively, I have some D.C. pictures, etc., that would be more professional, but I wonder how I would match my accessories to those pictures — the pictures are more office-hallway professional-ish. Thoughts?
Interesting question, Reader E! We've talked about office decor before, but not in a really long time. As I've noted before, I think a lot of this comes down to a few factors:
Presentation. Your Wizard of Oz print is framed — this goes a really, really long way toward making it appropriate for an office. I used to work with a guy who had a sports poster stuck up on the wall with sticky-tack and… well, let's just say I noticed it, and not in a great way. (It hung over the beanbag chair he kept in his office, if memory serves.)
Viewpoint. Who will be viewing the poster? I think you can get away with a lot of "fun" things for office decor if the item in question faces your desk, and the visitor or client only sees it when they turn to leave.
Kitsch factor. I think a single Wizard of Oz print can be a cool, personality-defining piece in your office. I think having three or more Wizard of Oz pieces in your office — figurines, other themed art, etc. — well, let's just say you have to REALLY want people to know that you're a REALLY big fan. If you are and you do, then, bully for you. But be aware of the fact that you're making a pretty loud statement.
Readers, what are your thoughts? What have you decorated your office with — and where did you find it? What factors did you think were important in picking pieces and deciding placement?