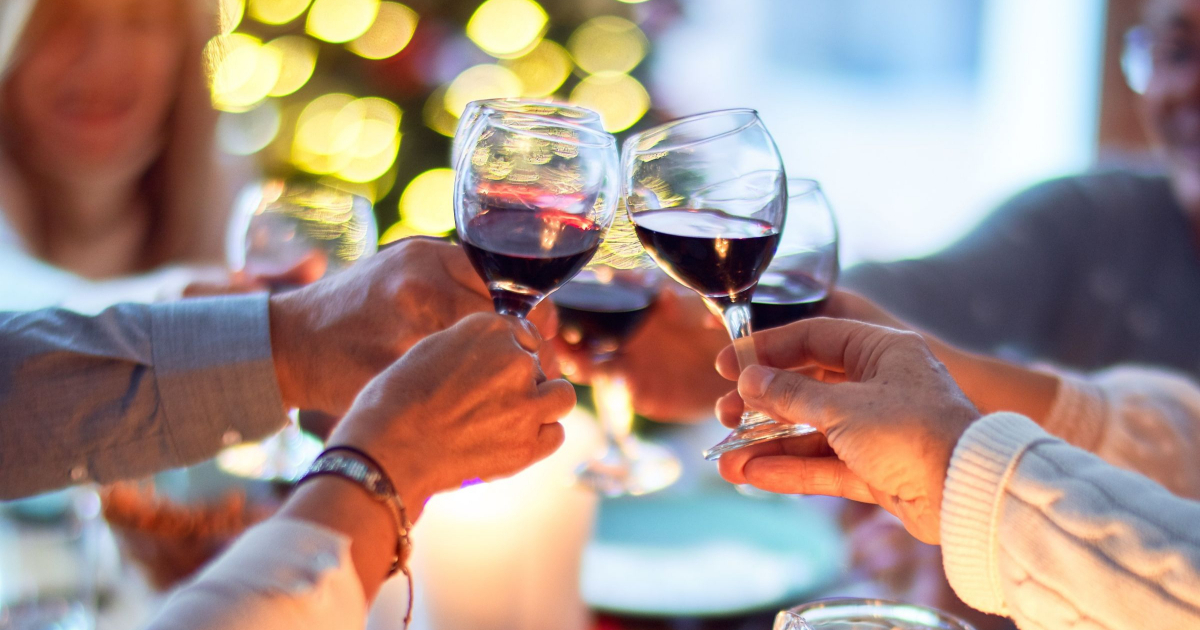 It's tough to find enough time for friends if you have a demanding job — when you have a really busy schedule, making sure you socialize and maintain relationships requires some creative problem-solving and planning.
While we've discussed how to fit in basic things like planning meals and cooking, doing household chores, scheduling appointments, and working out, we haven't talked about how to fit a social calendar into a busy life in a while. Let's chat about it today!
We've rounded up several suggestions from Corporette readers on making time for friends when your schedule is tight:
1. Pay for an outing ahead of time: To make yourself more likely to go out and do something with a friend, take advantage of a Groupon or Living Social deal, or other prepaid offer. It's harder to postpone a get-together or cancel plans when you've already spent the money. Now you'll have no excuse not to meet a friend to take a barre class or check out a restaurant you've never tried. (Looking at my local Groupon page right now, I see a range of ideas for potential friend meetups: sushi for two, mani/pedis, bowling, and classes in kickboxing, fencing, yoga, and ballroom dancing.)
2. Make your workouts social: It's hard enough to fit in working out and socializing, so combine them by meeting friends for a walk or a run, going to the gym with someone, or taking a workout class together. Or, hire a personal trainer and schedule pair or group workouts — typically a trainer will reduce their rates when sessions are semi-private rather than one-on-one. One reader mentioned taking brisk walks on weekend mornings with a friend or two — she'd even schedule them for 6:30 a.m. to make sure they happened!
3. Use your lunch breaks: One reader had an excellent point about meeting for lunch on a weekday: You won't have to worry about canceling if your workday goes longer than you expected, like you would with evening plans — and after all, you've gotta eat. If you just can't spare the half-hour or hour, you can at least invite a work friend to go with you to pick up food before you have your desk-side lunch.
4. Plan breakfast: Another way to hack a busy workday is to plan breakfast with friends before work. A bonus: if you choose a fancy restaurant, the prices are better than at dinner, and you can breakfast with other titans of industry.
5. Multitask with your phone: This tip isn't for everyone, and it got mixed reviews the last time readers discussed it — it wasn't always popular with those on the other end of the call, for one. Still, it might work for you. Call a friend to chat while you make dinner or clean up around the house, or have a conversation with someone while you take a walk around your neighborhood.
6. Don't be vague: Make concrete plans when you're scheduling your social life. Don't just say, "We should have lunch sometime!" or "We should get our kids together for a playdate!" Instead, get your calendar out and suggest a specific date. Tying your plans to a particular event helps with this — maybe there's a First Friday coming up when you're both free, or maybe you pick a movie to see on the night it comes out.
7. Don't go home: An object in motion stays in motion, so if you're trying to squeeze in socializing on a Friday after a busy workweek, make sure not to stop at home first before going out (if possible). When you're home, it'll be much easier to stay there — especially if you sit down on that soft, comfy couch and start scrolling through Facebook on your phone.
8. Free up some weekend time beforehand: Always feel too busy for those Sunday brunches with friends because there's so much to do? Try to get more chores done on weeknights — laundry, bill paying, grocery shopping, etc. — so that you can feel better about socializing on a weekend day.
9. Combine business and pleasure: If you need to attend a professional organization event or night of networking, ask a work (or non-work) friend to come along. Of course, if you're really there to network, it can be tempting to stick with her the whole time instead — especially if you're not the most outgoing person — but you can always agree on both one-on-one social time and solo networking.
10. Get organized: One reader shared how she and her social group use social media to facilitate, not replace, face-to-face time for friends. They set up a Facebook group to easily plan events for whomever's interested, and members are encouraged to bring friends, both to the Facebook group and to the in-person events.
How do you make time for friends? Do you find that you have to let other things go in order to find enough time for a social life? What's your favorite time or day to spend time with friends?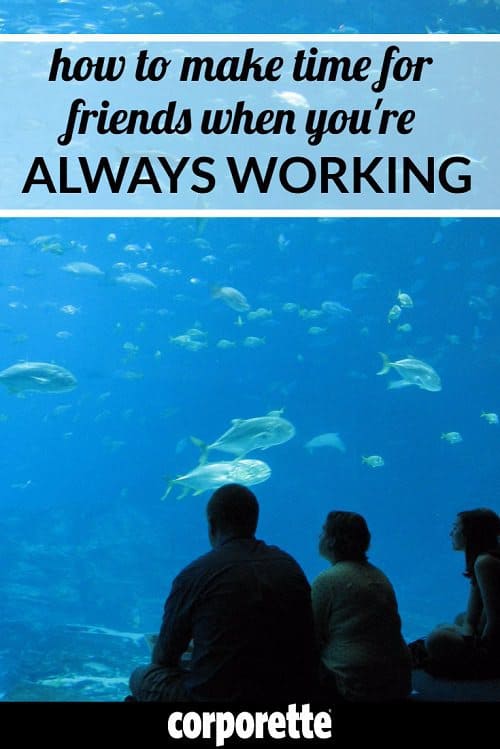 2021 updated images (people toasting wine) via Stencil. Originally pictured (people at aquarium).