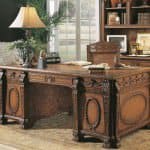 WowOwow has an interesting new segment where they'll show a "scene" from their daily life. Today, it's desks. We're sort of an odd duck: we've been in love with desks for a while now. (We were also in love with libraries as a child, so this may not be that odd.)  In our opinion, the right desk is a declaration of self as well as a power statement. Yes, they're huge and expensive, but they may have hidden drawers and engravings and inlays — and all those details tell you something about the person beneath the suit. We've seen some gorgeous desks through the years — editor's desks, professor's desks, CEO's desks, judge's desks, law firm partner's desks — and every single one of them has taught us something about the person. Who they are, what they're really like beneath the suit. How messy they are. How powerful they think they are. How attentive to details they are. It's also sort of come to represent a true form of success: no one in the junior ranks has a desk like this. You are a boss — either the boss of many other people, or a boss of yourself. Either way, you're no longer the midlevel.
Come to think of it, we have no idea where one even purchases these desks. (We found the image above by Googling "partner's desks.")
In the wOw spread, we love Judith Martin's desk the best — it kind of looks like the place Miss Manners would work.
2017 Update: I BELIEVE you can still see images of the desks here; here's the Wayback machine link to the original post on the wowOwow site (which, yes, seemed antiquated even back in 2008 — it's interesting to see it apparently morphed into the site PureWow).
Image above: "Seven Seas" collection by Hooker Furniture, available at thefurniture.com.