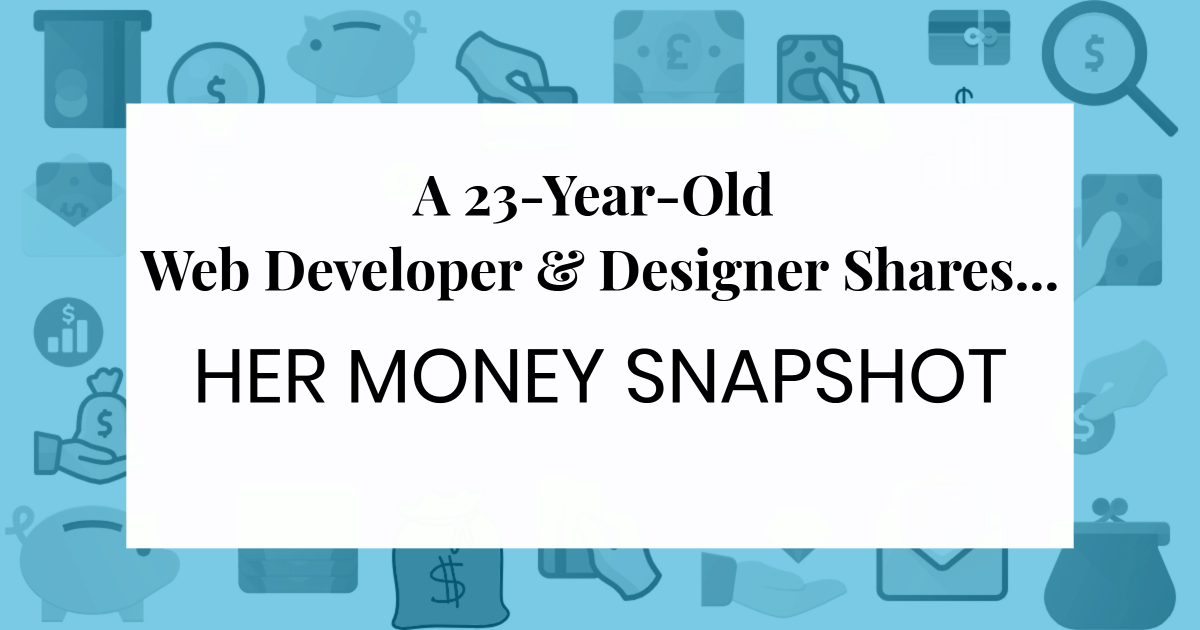 For today's Money Snapshot, we're talking salary, net worth, and more with a web developer/designer in New Mexico! She notes: "[My partner and I] pool 100% of our money and try to balance different incomes as best as possible."
By way of background: We got a few requests from readers to launch our own "money diary" series, so we've asked willing readers to fill out a form with lots of details about debt, spending, saving and more! If you'd like to fill out the form and be considered for a future personal money snapshot, please click here to submit your response! You can see a PDF of the questions if you want to review them ahead of time. See others in the Personal Money Snapshot series here.
Please remember that this is is a real person who has feelings and isn't gaining anything from this, unlike your usual friendly (soul-deadened, thick-skinned, cold-hearted, money-grubbing) blogger — so please be kind with any comments. Thank you! — Kat
Name: Liz
Location: Albuquerque, NM
Age: 23
Occupation: Frontend web developer/designer
Income: $68,000 + around $8,000–$12,000 a year in freelancing and side work
Partner's age: 24, works in furniture manufacturing
Household income: Around $100,000–$120,000
Net worth: Joint net worth is around $100,000
Net worth when started working: Worked multiple side jobs through high school and college (no loans, fortunately, positive net worth around $5,000–$15,000), transitioned to teaching + freelance design + afterschool programs/summer camps + grad school at 21 (saved 50% of my meager teaching income and paid for grad school with side income, joint net worth around $20,000–$50,000), switched to full-time web development + freelancing at 23 (saved 60-70% of income and all side income).
Living situation: Rent, costs right around $1,000 for 2/2 apartment with utilities each month
Debt
What does your debt picture look like?
I have never had debt. I will probably buy a house and have a mortgage in a few years.
How did you pay for school?
I was awarded a 90% tuition scholarship for academic achievement. I had enough savings from working in high school to pay the first semester of room & board and worked three part-time jobs my first year to cover living expenses. My parents gifted me the cost of a dorm room each semester, but by my sophomore year I picked up an internship and an activity scholarship that required work throughout the school week and on weekends in exchange for room and board. I saved the money my parents gave me and worked a variety of side jobs to cover other expenses during school. I graduated with a BA and BS and got a small scholarship toward my MS, which I was able to use side income and savings to pay for.
Savings, Investments & Retirement
How much do you save for retirement?
When I was teaching, I made a terribly low salary and maxed out my Roth IRA to take advantage of my low tax rate. Now I contribute 9% of my pre-tax income to a 401k and set aside 10% of my husband's and my post-tax income to split between our two Roth IRAs. It usually ends up being about 2/3 of the limit by the end of the year.
How much money do you allocate to other tax-savvy investments/accounts?
My employer offers a $1,000/year incentive to anyone who contributes the max (less $1,000) to their HSA, so I do that.
How much do you save outside of retirement accounts?
Aside from retirement, my husband and I save around $35,000 (about 40% of our post-tax income). We have set spending budgets each month that we track with Mint and the leftover amount, plus any side income is recorded in a spreadsheet where we track all of our non-regular expenses (car repairs, travel, moving, etc.) and savings categories. We have categories for savings (vehicle, health, emergency, house, slush, etc.) and set goals each year for each category. Every month we look at how much money we have to save and decide what categories to add to.
What is your investment situation like?
My 401k is an index fund and our Roth accounts are managed by some sort of AI. We have talked about doing CD ladders, but since we are saving up for a house most of our savings are liquid in the highest-interest online savings account we could find.
Do you have an end goal for saving or are you just saving for a rainy day?
Right now our goals are to buy a house, set aside as much as possible for retirement (since setting money aside earlier = more growth later), and have an emergency fund that could feasibly cover us for a year.
What's the #1 thing you're doing to save money, limit spending, or live frugally?
For a long time we lived in the cheapest apartment we could find (sub-$500), which was pretty crappy but enabled us to save a few hundred dollars every month while my husband was finishing school and I was teaching. Now we make two to three times as much and try to be conscientious of lifestyle creep while sorting out financially-related things like life insurance, wills, emergency funds, etc.
When did you start saving seriously? How has your savings strategy changed over the years?

I have always saved money, since I was a little kid. Some of my birthday money from early elementary school didn't get spent until I needed it to pay college fees. When I was younger, I would save everything and spend only after thoroughly researching what I was buying. I really enjoyed my purchases and was able to take advantage of sales or cool events because I had the money saved up.
Once I was living on my own, I needed to buy things more frequently, which was a difficult shift mentally. Something that helped me was to designate every dollar I made for some purpose. Now instead of making money and just trying to save as much as possible, I have budgets and savings categories. That helps me to spend money where I need to, be generous with gift giving and charity, purchase high-quality items, and have perspective on what I am saving and spending. I'm not making the decision between an individual purchase and my savings goals because I decided ahead of time how much would go toward each. It makes my life much smoother.
For example, I drive a used car that is almost as old as I am. I know that it doesn't make sense to sink a lot of money into repairs, but deciding between buying a new used vehicle and replacing something is a hard decision to make in the moment, especially while dealing with the stress of an accident/lack of transportation/uncertainty/whatever. So my husband and I talked and decided that we would put $X aside for repairs, and that if the vehicle needed more than that we would be better off getting rid of it. That completely removes the decision fatigue from the situation so that if and when the car breaks down we can take care of it without worrying about whether we're throwing money away. The money is there, set aside for the car, and that's it.
How much do you have in cash that's available today?
Just the $40 I keep in my wallet for emergencies, plus $15 for an event I'm going to this weekend
How much do you have in cash that's available in a week?
Around $70-$80k
How much is in your "emergency fund," and where do you keep it?
$20-$30k, in an online savings account, and yes
How much do you have in retirement savings?
Somewhere around $12-$15k in my individual Roth and 401k, plus around $2,000 in an HSA if you count that
How much $ do you have in long-term investments and savings (CDs, index funds, stocks) that are not behind a retirement wall?
Maybe $200 in odd stocks that I don't really mess with
If property values (home, car) are included in your net worth, how much are those worth?
I think my car is worth like $800. If you included electronics (like things I would sell if I desperately needed cash), maybe $3-$4k.
Spending
How much do you spend on the following categories on a monthly basis?
Groceries: $250
Restaurants, bars, takeout, and delivery: $60
Clothing and accessories: Included in misc.
Transportation: $45 rail pass, $44 car insurance, $100 gas, $15 set aside for oil and tires
Rent/living expenses: $1,100
Entertainment: Phones $65, internet $45, $90 in other entertainment
Health care — premiums and other costs: Mine is $82/month HDHP + $100 contribution to HSA; my husband's is through marketplace and is something like $250/month. We keep the max out-of-pocket annual cost for each plan in savings (mine in the HSA, his in a regular savings account), and also set aside $50/month for health, hygiene, and fitness costs.
What's your spending range for these things? What's your average?
Vacations – Range: $200–$1,000 for two people, and we mostly camp and visit national parks. Strictly based on opportunity–usually once a year, but if we both have off work for some reason we will take advantage of it and head out.
Vacations – Average: $400
Individual items of clothing – Range: $1–$100
Individual items of clothing – Average: We thrift shop as much as possible and spend less than $10 on skirts, t-shirts, sweaters, work shirts, dresses, athletic clothes. Shoes are usually around $50, jeans/pants are around $15–50, nicer coats, boots, etc. can be as much as $75-100

Apartment or house – Range: $400–$1,100/month
Apartment or house – Current main residence: $1,100 including all utilities and insurance
Car or other vehicle – Range: $1,500–$8,000, purchased used
Car or other vehicle – Last purchase / current main vehicle: Worth ~$800, purchased for around $1,500 years ago
Any other large personal expenses? What are they?
$100–$5,000 on moving/temporary storage each year since I started college. Moving especially has a lot of related costs (lots of takeout, random stuff that gets broken or thrown away). Graduate school tuition was around $25,000 over 2.5 years.

Fill in the blank on this question: I could save _____ if I stopped ______, but I don't because _______.
I could save $100–$150 a month if I stopped eating out, but I don't because I enjoy it and use it as a way to get together with friends.
If you're married: When was your wedding, how much did it cost (total), and how much did YOU pay?
Two years ago, less than $10,000; I paid around $2,000–$4,000

Tell us about your wedding!
Had it at a tiny church in the middle of nowhere (minimal venue costs), it was late in the evening so we served hors d'oeuvres (no catering in the middle of nowhere), my spouse and I DIYed everything (food trays, decorations, invitations, etc.), his parents brought wine and beer, I bought my dress at a consignment shop, we had a friend do photography. If I could change one thing, I would hire a professional photographer.
Money Strategy
Do you have a general money strategy?
Live well below my means, invest early, have a plan for every dollar
What are your favorite resources for personal finance?
I read all of my dad's money books growing up (think Millionaire Next Door, Richest Man in Babylon, etc.), but now I mostly just google things or browse Reddit if I want to know something.
What advice would you give your younger self about personal finance?
Try to find a university that will let you study what you're interested in and also develop lucrative job skills like computer science.
Photo credit: icons via Stencil.