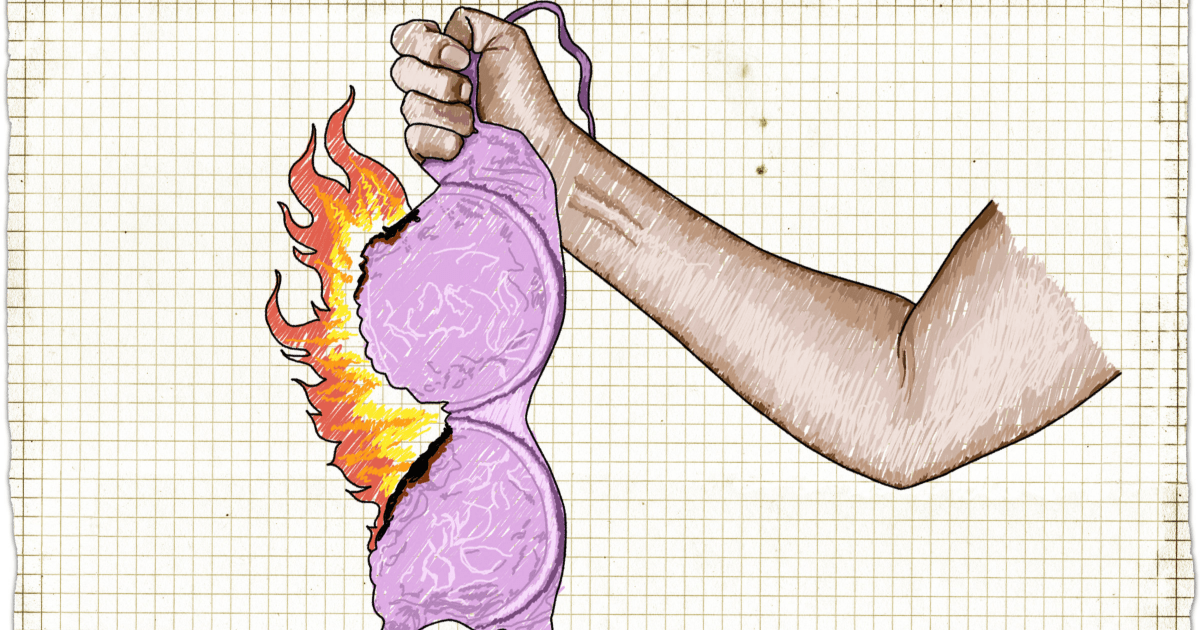 Here are some fun questions for today: What clothing have you stopped wearing during quarantine? What ARE you wearing? What clothing is unlikely to come out of your closet any time soon, e.g., are you planning to ever wear a bra again?
When I scroll through Instagram lately, I've noticed that clothing companies REALLY want me to buy bras — they're the subject of most of the ads I'm getting. That's not surprising, because I've also noticed a ton of women online happily declaring they've stopped wearing bras during quarantine, with some adding that they don't plan to wear them again (or at least not styles with underwire). Bralettes and sports bras had already been growing in popularity over the last few years anyway. (Psst: Here was our recent roundup of the most comfortable bras, including several bralettes!)
High heels and makeup have also fallen out of favor with a lot of women during these last couple of months… as well as pants with non-elastic waistbands. (Personal note: Why did I ever think jeans were that comfortable? Lately, I've been getting a ton of use out of these pink, hedgehog-print "lounge pants," i.e., PJ pants, that I bought for $5)
Let's hear your thoughts on the following, including which habits you think will stick — and which won't — once you go back to the office:
Outfits in general: What is your typical work-from-home outfit lately? Are you all about comfort, or does it make you happier (or more productive) to dress like it's a typical workday — or at least in something along the lines of business casual? We're assuming that many readers have made athleisure a WFH staple during coronavirus, so we recently rounded up the best athleisure brands that are worth the splurge. Has this been the case for you? Do you have a lot of video calls that you need to look presentable for? (Check out our recent post on tips for video conference calls if so.)
Bras: Are you only wearing your comfiest options, such as bralettes? (See Kat's recommendations for the most comfortable bras for working from home, if you need ideas.) Or are you not wearing bras at all?
Heels: This is something we can pretty much assume that readers working from home are skipping, especially those who don't wear shoes inside the house anyway! (Now THAT would be an interesting — and contentious — debate that would almost deserve its own post…) What were your feelings about high heels pre-pandemic? Did you wear them frequently? If you think you'll go back to heels but aren't eager to wear the ones you have, you can get some great suggestions in our Guide to Comfortable Heels. If going without heels for a couple of months has put you off them permanently, will you donate your existing shoes? (See our post on where to recycle, sell, and donate your work clothes.)
Makeup: Have you been using makeup, and if so, how much? Are you wearing it for work Zoom calls, for yourself, or both? Are you going with your typical workday makeup look, or just swiping on some lipstick, etc., for video calls? The no-makeup makeup look has been a big stuck-at-home trend, so is that something you're trying? Does going through your normal morning makeup routine help you add a bit of structure to your days, or help make time at home feel more like a regular workday? (Alternately, have you set aside most of your beauty products for now?)
Jewelry: Have you been wearing any jewelry in quarantine? Has it been something you haven't even been thinking about, or are you wearing jewelry for video calls, perhaps? For you, is wearing something pretty/fun/cute a little pick-me-up in times like these?
What clothing have you stopped wearing during quarantine, and how are you dressing differently? If you've been shopping online for clothes lately, what have you bought?
Illustration via Shutterstock / T. L. Furrer.