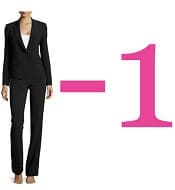 What should you wear to lunch while you're networking? Reader C wonders…
I work in Recruitment Marketing at a Big 4 firm. I like my job and what I'm doing but it's time to start looking for a new job. As a part of the search, I'm going to be setting up networking meetings over coffee or lunch. I've found lots of dos and don'ts for how to set up the meetings, what to say or not to say, etc, but I'm having trouble finding advice about what to wear. I want to look professional, but a suit seems too formal. What should I wear?
Interesting question — we haven't talked about what to wear to a networking lunch in a long while (although we did just talk about a fairly similar topic, what to wear to an alumni luncheon). I'm going to advise you to wear something I'm going to call Interview-Suit-Minus-One. I know, catchy.
Anyhoo, here's the idea: An interview suit outfit would be a solid neutral suit like black, gray, or navy, paired with with something neutral like a white or light blue blouse. Wearing Interview-Suit-Minus-One means you change at least one thing in the lineup:
Instead of a neutral suit, wear a fun suit, such as the ones we often feature for Suit of the Week — it still says structured professional, but has more personality.
Or, instead of a neutral suit (jacket and bottom), wear your suit jacket with a dress (as in, one not made of a matching suiting fabric).
Or wear the suiting pants and a neutral top with a fun blazer such as a tweed or linen.
Alternately, instead of pairing a neutral top with your neutral suit, pair something fun with it — a black pants suit worn over a colorful pattern or print will read a lot less stuffy.
If you do decide to wear an overwhelmingly neutral outfit (black sheath dress, for example), I would encourage you to wear a statement necklace instead of pearls, or a fun pump (I do love a good purple pump) instead of black or nude-f0r-you pumps… but that's me. (I feel like a bit of personality always helps with networking!)
I suppose my answer might change based on who you're meeting with — more casual/personality for an old friend or colleague, more formal for a friend-of-a-friend (because you reflect both yourself as well as the person who introduced you, so you should err on the side of being more formal), more formal if there is an actual job opening that you have applied for (or will be applying for) and are networking to get more info on the job.
If you'd like to pin this, here's a handy graphic. Pictured below:  Interview suit / Fun dress / Fun blazer / Fun suit / Neutral dress / Statement Necklace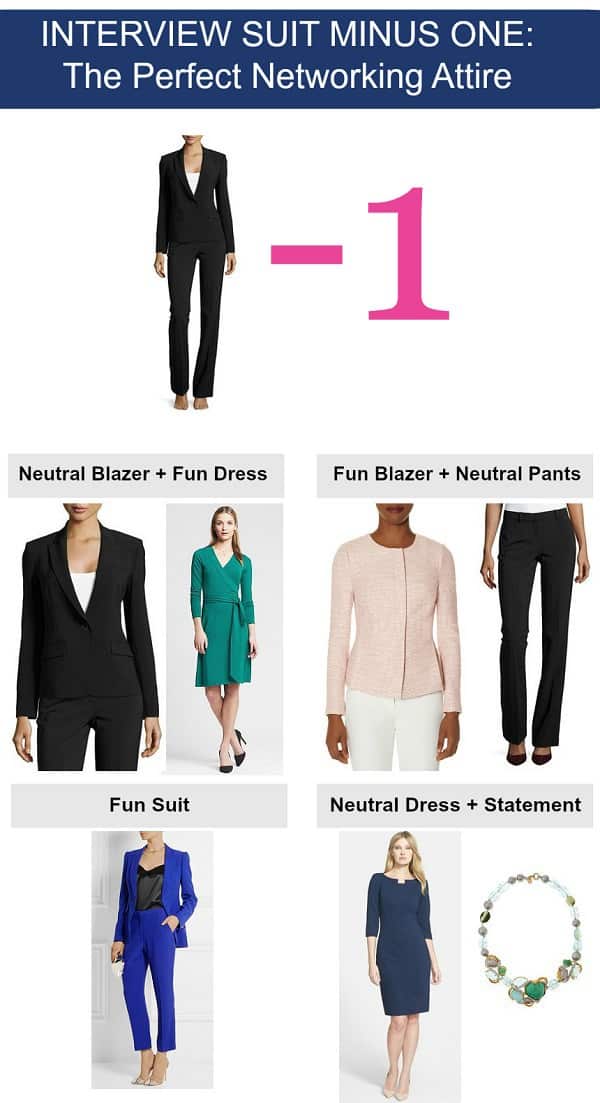 Readers, what do you wear for networking lunches? Does the answer vary based on who you're meeting with, how you know them, and whether or not there is a possible job on the table? 
—————
N.B. These substantive posts are intended to be a source of community comment on a particular topic, which readers can browse through without having to sift out a lot of unrelated comments. And so, although of course we highly value all comments by our readers, we're going to ask you to please keep your comments on topic; threadjacks will be deleted at our sole discretion and convenience. Thank you for your understanding!