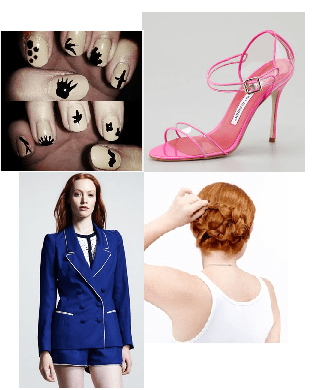 2019 Update: Check out our latest discussion on the 2019 fashion trends we hate.
There was a lot of interesting discussion on the weekend open thread about the wedge sneakers — it feels great to know I'm not the only one who isn't totally on board with them. I thought today we might have a discussion about which trends we're totally sick of, and which trends we're actually liking/looking forward to. For my own $.02, here's my list:
Sick Of:
– Leggings/skinny jeans (although a friend once argued they were staying because "people have spent way too much on boots," which I agree with — but I'll still be surprised if they stay.)
– Boxy blouses
– Crazy nails (pictured)
– Sequins for day
– Short suits (pictured)
Liking:
– Bold lip color
– Jewel tones
– Braids (pictured)
– Graphic prints
– Quilted details
– Lucite details on heels (pictured)
So let's hear it, ladies — what trends are you sick of? Which ones are you liking?