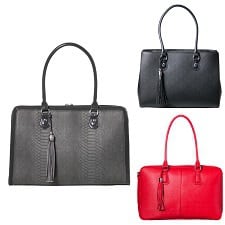 We've mentioned the gorgeous laptop bags and work totes made by the Australian company, My Best Friend is a Bag, before — but I'm honored to work with them today to do a sponsored post. See here for more info on sponsored posts and other partnerships. – Kat
Pictured at top, clockwise from left: gray / black / red
When I think of the company My Best Friend is a Bag, I think of laptop totes for working women that are that rare mix of beautiful and functional — and designed by a woman who actually knows how difficult it can be to look stylish but professional on a commute to work. The company founder, Australian advertising maven Janie Bartlett, has noted that she thinks a great work bag is "like a true best friend — it never leaves your side, shares all your secrets, and will help you look great and stay organized while you lead your busy life." She couldn't find one on the market, so she left the ad world in 2012 to focus on building her company. BFB's beautiful bags are all vegan, and they all contain a ton of smart features to help you stay organized while you lead a busy life, such as a fob for your keys; studded feet to protect the bottom of your bag; pockets big enough for a cell phone, passport, pack of business cards; and more — all with brushed nickel hardware and zippers. The bags are all hand-stitched using premium vegan leather, so they're lightweight, waterproof, and long-wearing. Ah, yes: While the company is based in Australia, the bags are all available in the U.S. through Amazon, where they consistently get fabulous reviews. They're even eligible for Amazon Prime — nice!
Seriously, every bag the brand has is gorgeous. Some of my favorites right now include: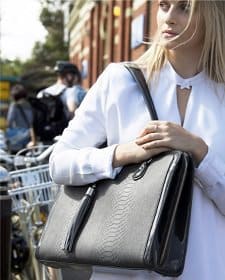 I think this bag is one of my favorites — at 18″ x 12″ x 4″ it's the biggest of the brand's offerings and will fit a 17″ laptop. The bag has smart details that most of the BFB bags have: In addition to a fun lining, it has a fob for your keys, studded feet on the bottom of the bag, loads of interior organization (this one has three pockets for glasses, phone, or business cards) and cute tassels on the outside. The bag is lightweight (made from faux patent leather with faux snakeskin trim) and has detachable straps. (I love that you can buy extra straps to change up the colors or if those are always the first to get worn out for you!) The bag comes in gray (pictured), red, and black for $149.25; you can purchase at Amazon. Lindsay Laptop Bag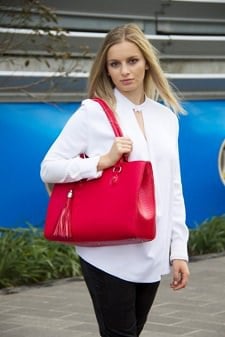 It's tough to pick a second favorite because all of the bags look awesome. This 13″ tablet bag is very professional and lovely, and at 15.5″ x 11″ x 5″ it's plenty big enough for a folder or binder, even a legal-sized one — and I like that there are three zippered portions. (I know many readers hate when a bag's top is open.) Like the Lindsay bag above, this one has a key fob, a colorful lining, studded feet, a detachable shoulder strap (with replacement straps available), and reinforced sides to help the bag keep its structure; one of the compartments is padded and will fit a tablet, iPad, or Chromebook. It's available in red (pictured), black, or gray for $135. Jennifer Tablet Bag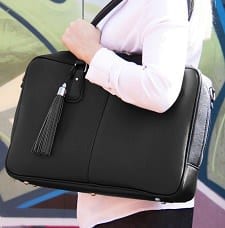 The Melinda bag is the medium option — great if you have a smaller laptop or want more space for your papers and documents. At 17.5″ x 12″ x 3″, it's longer than the Jennifer but the slimmest of the three bags; one slim closed compartment in front unzips to reveal space for pens and credit cards, while the main interior compartment is also zippered, has a padded laptop sleeve and the BFB pockets for glasses, phone, and even a passport. Like the other BFB bags, it features a key fob, studded feet, and reinforced sides — I like that the black bag (pictured) has a bright red lining. The bag is also available in red, and is $145. Melinda 15″ Laptop Bag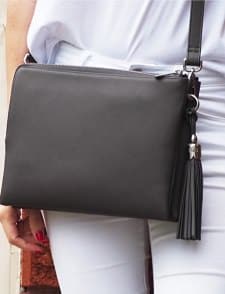 Oooh: This little crossbody (which can also be worn as a shoulder bag or clutch) looks like the perfect combination of a tablet bag, cell phone bag, purse, and wallet. It's got padding so that a device of up to 10″ is safe and secure (think iPad, Kindle, tablet, large smartphone, etc.), but is still very slim at 11″ x 8.5″ x 1.5″. Like the bigger bags, it has a key fob, a tassel, a fun lining. The first zippered compartment has space for credit cards and cash, with another zippered compartment that I would use for lip gloss and the like; the second, larger zippered compartment is for your tablet or other bigger personal items. It's available in gray (pictured) and black, and it's on sale — it was $98.45, but is now marked to $79.95. Lucy Tablet Bag
Readers, which are your favorites?
Thank you so much to My Best Friend is a Bag for sponsoring this post!
See here for more info on sponsored posts and other partnerships.