2017 Update: We still stand by our advice on how to show authority without wearing a suit, but you may also want to check out The Ultimate Guide to Business Casual for Women.
What do you wear when you want to show authority without wearing a suit? We've talked about what to wear when a suit doesn't feel right, but Reader R is looking for authoritative clothes that aren't intimidating and travel well…
I recently started a new job as in-house counsel. As part of my responsibilities, I will be traveling internationally to conduct audits and give training sessions. The job is great, but I'm not sure what to wear! My de facto would be to wear a suit, but my boss suggested that I should avoid wearing suits, since the appearance of a "suit" tends to make people nervous. Some relevant factors: (1) I'm often the only woman in the room; and (2) I'm also often the youngest person in the room.

Basically, I need pieces that say, "Position of authority, but non-scary" and travel well. Help!
Congrats on the new job, R! One of my older friends was a lawyer for a TV network in the 80s, and I remember her telling me that she would leave her suit jacket in her office when she had to go talk to the comedy writers or producers — it was less intimidating, less "this is coming from The Man." So you're not alone in wanting to thinking about what your clothes say to people. For my $.02: Put some thought into exactly what response you want from people. For example: Do you want them to respect that your word is the final word, and they should do what you tell them? (Play up the authority.) Do you want them to come to you with problems that might not be communicated to the home office otherwise? (Play up the approachability, but keep some authority.) Do you seek to really understand their problems and make friends in the office? (Turn the authority way down.) (As for the "looking younger" part of your question, you may want to look at our older post on the difference between acting young and looking young at the office.)
2020 Update: These are some of the best sweater jackets for the office or working from home: gray / gray / green / navy with pockets / cropped navy


For my $.02, I would go with what you feel most comfortable in, and modify that (taking into account, obviously, the office culture for where you're going). If you're comfortable in:
heels and fashionable business dresses — emulate Claire Underwood from House of Cards, who always looks authoritative without wearing a suit. Think structure, structure, structure, and look for dresses in subdued colors and suiting materials (similar to those in our roundup for simple sheath dresses). Another approach: the blazer + dress approach, with the dresses being of a non-suiting material. Think wrap dresses, ponte dresses, even knit dresses — prints, colors, all are OK — but expect to put a subdued blazer on top of them. (You could also do a cardigan here, but in my mind it doesn't have as much gravitas as a blazer.)
jeans and sneakers (and jeans are appropriate for your travels) — get a good collection of blazers and fun necklaces to wear with dark rinse jeans and heels. You can play with color if you want to (try, say, a teal jacket and a long red necklace), but you can also keep it on the more subdued side (black blazers as separates, black t-shirts, and silver/gold jewelry). (If jeans aren't appropriate, I'd find a flattering, wear-with-everything trouser or pencil skirt for you and then take this approach.)
Trousers and flats — go with fluidity. Drapey trousers, loose blouses — and if possible, wear quality accessories like a great watch, a good set of pearls, etc. (Depending on where you're traveling to, though, this may need to be rethought — jewelry is easily stolen from hotel rooms, packed bags, etc.)
2020 Update: These are some of the best jeans for work (affiliate links): 1) Paige 2) Madewell 3) Topshop 4) Wit & Wisdom 5) Levi's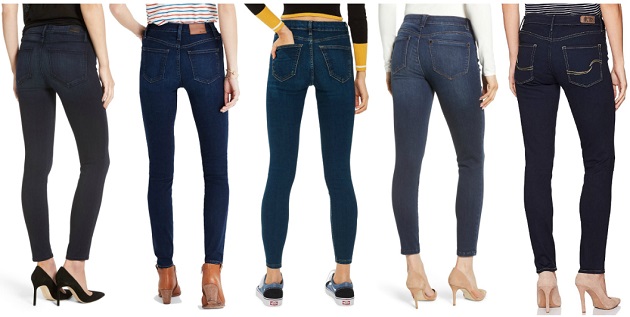 Readers, how do you dress when you want to be the "non-scary person with authority"?