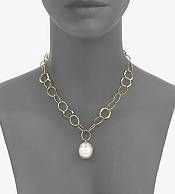 When is the right time to wear pearls?  We've talked about how to buy pearls, but Reader C sent in a super short email wondering when to wear them…
One of my favorite jewelry pieces is my strand of Mikimoto pearls that I got for my 30th birthday.  They were an investment piece, and they get so much wear that I'm glad I did invest in a quality piece.  That said, there are a ton of price ranges (and there's nothing wrong with faux pearls) so there's something for everyone.  For my $.02, when to wear pearls depends on the kind of pearls we're talking about: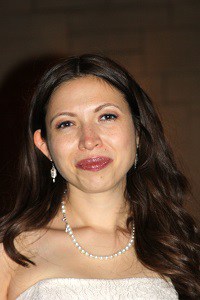 – Standard strand (not too big, not too small, around 7.5MM, 16″ or 18″) — everywhere!  Since I got my strand I've worn them to court, to interviews, to legal conferences, around the office, on dates, to my wedding, to blogger networking/speaking events… the possibilities are endless.  I often note how common they are for the first day at legal conferences (where everyone tends to dress as formally as they're going to) and networking at night events.  My strand is 18″ long but I think a shorter 16″ strand looks great peeking out beneath a crisp button-front blouse.  I've also often thought that a strand of pearls can "stodge up" a less conservative outfit. (Pic at right taken by a friend at my wedding — note that the strand had turned around so the clasp is not in back, where it's supposed to be.)
– Pearl pendant.  Again, I think you can wear this one everywhere.  My husband got me a fairly large pearl pendant from Majorca (similar to above, available for $165) that I've worn with suits and with date-night dresses. I generally think pendants are less conservative than a full strand of pearls.
– Colored pearls (think Nancy Pelosi's Tahitian pearls).  Pelosi wears them everywhere; I think you can t0o.
– Pearls with diamonds.  These can be a gorgeous look for evenings or fancy day events (like weddings); depending on your personal style they may look fine with your work clothes as well — but these will be a less conservative choice — more of a statement.  (And I've spent waaay too long searching for an image I thought I had Pinned recently… if I find it I'll update.)
– Very long pearl strands (think Coco Chanel).  Again, we're getting into less conservative territory here (and more likely faux pearl territory), but I think they're great accent pieces.  Note that Angie at YouLookFab has an interesting video on how to knot longer strands.
– Large pearls.  These tend to look a bit stodgier — they also tend to be faux.  In general the older you are, the larger your pearls can be.
Readers, are you fans of pearls?  Where (and how) do you wear your pearls?