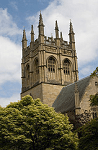 If you're working full time and go back to grad school, how can you manage everything? How can you become adept at juggling a full time job — and courses? Reader C wonders:
Not sure if you've covered this before, but could you do a post on balancing full-time jobs with part-time graduate school? Any tips on maintaining sanity/social life/health/relationships would be appreciated.
Congrats on going back to school! We've talked about how to adjust your budget for grad school, but we haven't talked about the adjustments you need to make for your social life, health, and relationships. I have a few ideas, but I'm curious to hear what the readers say. (Pictured: College at Oxford, originally uploaded to Flickr by jimmyharris.)
– Know your priorities in life. Right now you're juggling school and work — high priority family may be in the mix as well (a husband or partner, a sick family member, a child). There are also all those other relationships — your friends, your dates, your acquaintances. Oh yeah: you may also want time for yourself. You really need to ask yourself what is most important to you and your goals in the long term. When conflicts come up, then you can refer back to the priorities list.
– Know your priorities in school. You need to pay very close attention to what kind of grades and extracurriculars you need to make the most of your new degree (and the time and money you've invested in it), and prioritize those. I would even go so far as to say that for some degrees, if you can't put your school first (even though you're going part-time), you shouldn't go at all. For example, if you get bad grades in law school, your career prospects are incredibly limited, especially in this economy. On the other hand, in some degrees the focus is on networking. (I'm thinking of my MBA friends here, where half the benefit of the degree really was getting to know other MBA students). In still other situations, your focus should be on extracurriculars, such as internships you get through the school, publishing opportunities, and more. The trick is knowing how you want your resume to look when you get out of school.
– Don't apologize for having priorities. Everyone does. The trick is to communicate clearly and honestly with your friends and family about those expectations. "I can't come, I have to study," or "I'd love to come out on Friday, but I need a date night with my significant other."
Some of our earlier posts may be helpful to you as well: how to manage your time, what to eat when you have no time to eat, how to relax, how to look great the day after the all nighter, and (you know, if you have time:) how to have a social life, and how to date when you're superbusy.
Readers, have you had to juggle a full-time job and part-time grad school? What are your best tips?