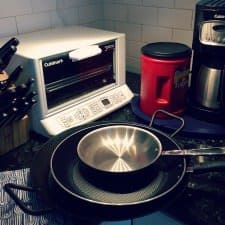 For today's post in our (very occasional) Home series, let's talk about the best cookware and kitchen appliances. What is your favorite cookware to use? Is there any particular pan or kitchen device that you find you absolutely must have?
Psst: Good job, ladies — after we last discussed the best sheets and the best towels, I'm now obsessed with Garnet Hill.
I'm far from a Martha Stewart (like, really far), but if you're curious from my perspective: When we got married, we got a bunch of fancy All-Clad Copper Core pots and pans. The first time I tried to use one (to saute shrimp and broccoli, if memory serves), I somehow burned the pan so badly that the oil splatters are still there. Around the same time, my MIL had gotten me a huge boxed set of cheaper non-stick Calphalon pans, which we proceeded to use into the ground. My understanding with nonstick/Teflon-coated pans is that at the first sign of wear, you should ditch them — so we've kept replacing them every year or two.
I've been reading a ton about the benefits of cast iron, though, so we decided to try a pre-seasoned Lodge skillet for the first time recently… and I proceeded to burn the pan the first time making eggs. I've since watched the videos on the Lodge site and think I have the thing clean, but I'm still going to be really wary with cooking in it.
So, to recap: the fancy wedding cookware looks great as kitchen decoration. The eco-friendly cookware is really heavy and I'm a little scared of it from a cleaning perspective. (Also: I can't imagine cooking in it without a bucket of oil or butter, which isn't usually my objective when cooking at home.) And I've just bought my third version of this nonstick pan.
Other devices I love: my slow cooker, my old Magic Bullet (from the '90s, I swear — it's still going strong!), my small George Forman grill (also from the '90s!) and a toaster oven, which I have always thought is far superior to a regular toaster. I like the thermal carafe coffee maker we got recently(ish) from Macy's (note, though, that I am not a coffee snob, perhaps best evidenced by the huge Folgers can sitting there). 
Two other things: I'm on a seltzer kick right now, so I'm loving our Penguin SodaStream, and for some reason I cannot get enough of Crate & Barrel dish towels — I've tried a few other kinds over the years and feel strongly that the C&B towels are the best from an absorbency/quick drying/non wrinkly/easy care/stylish/pretty perspective.
Ladies, how about you — what have you stocked your kitchens with? What have you found to be the best cookware? Do you feel strongly about any of it?
Further reading: