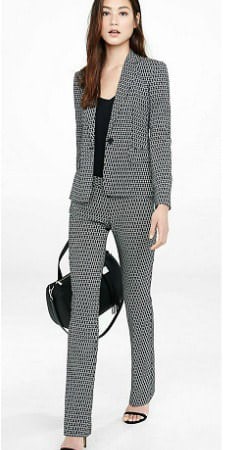 For busy working women, the suit is often the easiest outfit to throw on in the morning. In general, this feature is not about interview suits for women, which should be as classic and basic as you get — instead, this feature is about the slightly different suit that is fashionable, yet professional.
All right kids, stick with me: do not adjust your monitor (or check the calendar). I am only sort of recommending the pictured "pixel print" suit. The pattern is actually kind of fun for a creative office, and I think the pieces could be nice as separates. But what I really like about the suit is the proportions — the slim "barely boot" pant and the sleek blazer. Express has both pieces in a simple black "studio stretch," but they're not shown together, hence this picture of the pixel print suit. The 24″ jacket (Express Studio Stretch Jacket) is $108, and the barely boot pants (Express Studio Stretch Barely Boot Columnist Pant) are $69 (in short and long sizes!). I'm not a fan of it, but they also have a matching 20″ blazer (as well as a midi skirt, and, well, a shorter skirt).
Also gorgeous: this blazer, although sadly the matching pants are almost entirely sold out.
Here is a black plus-size suit (jacket + pants) with a bit of stretch; it's available in black and four other colors.
Update: Wow.  Wow.  If you were really bummed that this suit costs less than a $1000, do check out this Max Mara suit that is… similar. But star-themed. Oh yeah.