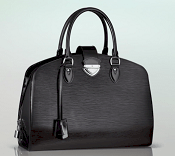 Sure, we all know what basics professional women are supposed to have in their closets, but if you're buying one for the first time or replacing one you've worn into the ground, it can be a pain to find exactly the right incarnation in stores. In "The Hunt," we search the stores for a basic item that every woman should have.
I'm a huge fan of colorful, bright bags
— but that said, if I didn't have a few simple black bags in my closet I'd be majorly on the hunt right now. They can be a bit boring, for sure, but they're classics for a reason — they're major workhorses. We haven't rounded up some
simple black bags
since last April, so I thought I'd do a round up today…
Readers, which are your favorite simple black everyday bags? Have you bought any great ones recently?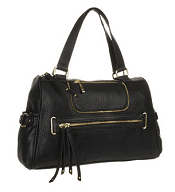 I'll be honest: finding a simple black bag on a budget is hard for me — I'd usually rather spend my money on leather rather than a synthetic, and the details on a lot of them just aren't my taste. That said, this Olivia + Joy satchel looks great for the price — I like the zippers, and the size (15″ x 5″ x 10.5″) looks perfect, even if it is faux leather. It was $92, but is now marked to $49.99 at 6pm (available in black, green, brown, yellow, and orange). olivia + joy Zoie Satchel (Also in this price range, this BCBGeneration satchel looks nice for $65.)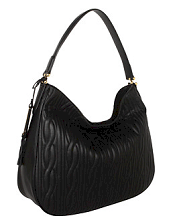 I really like the look of this quilted hobo by LAUREN Ralph Lauren. I think the texture adds an interesting element without sacrificing durability or versatility. It was $348, but is now marked to $209 at 6pm in black and white, while Zappos has it in red. (This satchel from Lauren, full price at $328, also looks great.) LAUREN Ralph Lauren Banbury Quilted Hobo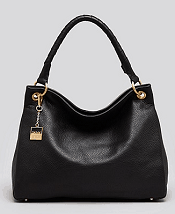 Ooh: pretty. I like the pebbled leather, the singular shoulder strap, and the feet on this bag from DKNY. For $325 I wish it had a zipper, but hey. It's $325 at Bloomingdale's. DKNY Hobo – Crosby Large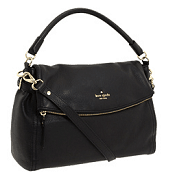 I actually posted a link to the Kate Spade New York Cobble Hill Little Minka as part of the Deal Alert on Friday — the hot pink version was on sale — but the plain black version looks too great to not include in this roundup. I like the zippered closure, the rolled top handle, the removable shoulder strap, and the soft pebbled look. It's available in beige, black, and almost neon green and blue at Zappos Couture for $378; the hot pink leather and a fun stripey fabric version are still on sale at Kate Spade. Kate Spade New York Cobble Hill Little Minka Update: Amazon has the Little Minka in black leather for $356.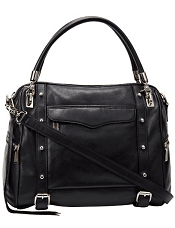 In general, I always wish that Rebecca Minkoff made her straps just a leeetle bit longer — but she always has great looking bags, and this new(ish) Cupid is no exception. I like the fun lining, the outside pockets, and general rocker vibe. It's available in a zillion colors; Amazon has it in black for $495. Rebecca Minkoff Cupid Shoulder Bag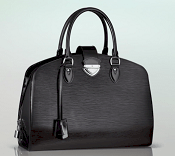 Le sigh. I've written before about how I'm not 100% happy with my LV Alma bag in Epi leather (primarily because I prefer shoulder bags to satchels), but that doesn't make me stop lusting over all things Epi. This Pont-Neuf GM bag looks gorgeous, and I like that it's designed to house a laptop. It's $2,810 at Louis Vuitton. Louis Vuitton Pont-Neuf GM
Like this feature? Check out other recent installments!
(L-#)