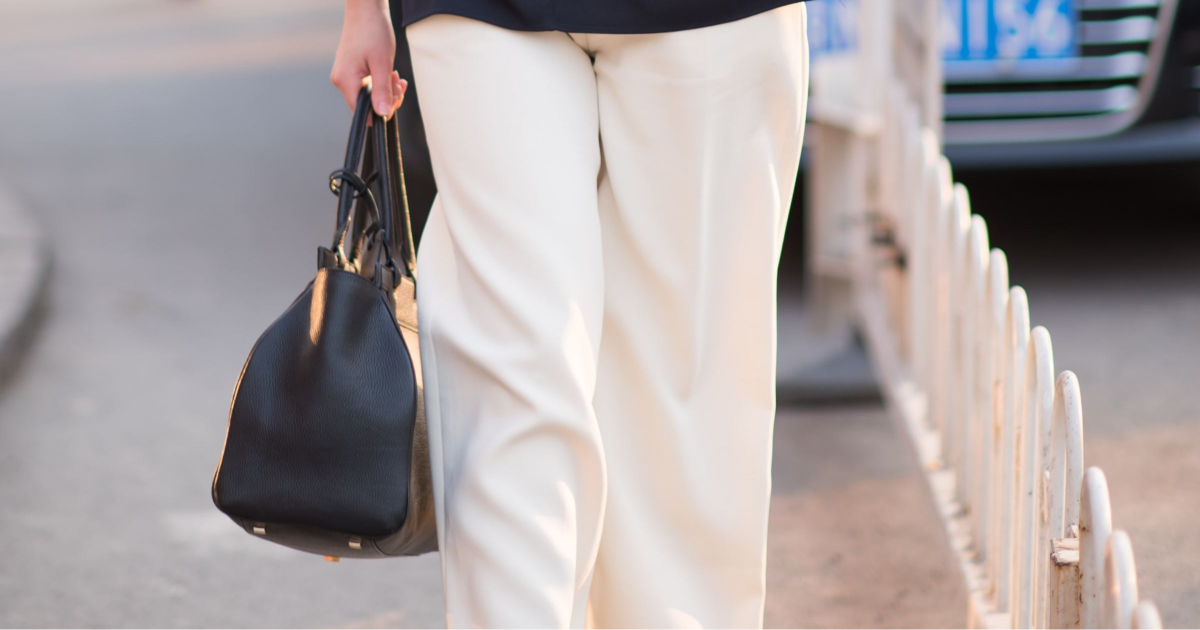 We've talked about how a $9,000 handbag might be a bit much for an intern — but Reader E, a young woman lawyer, wonders when in your career women can buy an expensive briefcase or work totes. How soon is too soon?
I was wondering if you could do a post about expensive handbags for work. Kind of like the Hermes post, but a little bit of a different situation. I'm graduating law school this spring and will be working in a large law firm in the Fall. I want to purchase the Celine mini luggage bag with money I made as a summer associate, but I'm wondering if it's inappropriate, since the bag costs around $2700.

I'd get it in the plain black color. I don't think it's nearly as recognizable as the Birkin you discussed (I doubt most people know what it is), but it IS an expensive purchase for someone just starting their career. What do you think for a new associate? The only logo is a small imprint of Celine Paris on the front of the bag.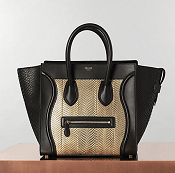 Great question. To review: back in 2010, a reader wrote in to ask whether she could carry her Hermes Birkin bag around her law internship. Considering she was still in school (and didn't have the job yet), a Birkin bag — which generally costs about the price of a small (used) car — seemed a bit much. Specifically, back then I worried that the message the intern was sending was that she was rich, and not working for the money.
My Rule of Thumb: When You "Can" Buy Expensive Work Bags Like Briefcases and Totes
Since that email about the Birkin bag, I've come up with a rule of thumb:  if you haven't made enough in paychecks to both pay your rent and buy the bag, you probably shouldn't bring the bag to work. So Reader E — who's already made the money — would be well within my little rule of thumb. 
(Pictured:  Celine – Luggage.)
Mini Update: Our Latest Favorite Luxury Work Bags
As of Feb. 2023, some of our favorite luxury work bags for a splurge (large enough for work papers and sometimes even a laptop) are from Chanel, Louboutin, McQueen, Mulberry, MCM, Jimmy Choo, Ferragamo, and Strathberry. Of course, note that a lot of our readers who are in big jobs note that they love their (more affordable) Lo & Sons bags, as well as their Tumi.
Looking for work backpacks to splurge on? Montblanc, MCM and Senreve are great, and Valextra has some men's backpacks that look perfect.
Why I Think This Reader Can Buy A Luxury Work Bag
But I think there are other important differences between Reader E and the Birkin-toting intern:
She's already got the job.  If her bag purchase is noticed around the office, it will be with nods of approval — she's noted what is appropriate and she is investing in her wardrobe to bring it up to the standards of that office. (Of course, you can also buy work-appropriate totes for much less than that — check out our last round-up.)
She will have recently completed seven years of higher education. Congratulations! This is huge! Reader E should be thrilled, and I'm guessing her parents (and significant other if she has one) are thrilled right along with her. Gifts happen, and even if her parents or her SO were to buy her a Birkin (or a fancy watch, or the less expensive Celine), it's an appropriate situation for a lavish gift.
I suppose one could say that the Birkin-toting intern maybe got her bag for college graduation, but there just seems something more final (and adult) about law school/grad school graduation, at least to me.
Also, a minor point: the bag Reader E wants to buy is large enough to be a briefcase and fit work papers inside it, which makes it more practical in a general sense (versus the 30cm Birkin, which as I understand it will not fit letter-size papers in it, let alone legal-size ones).
Psst: these are reader-favorites if you're hunting for something lower priced: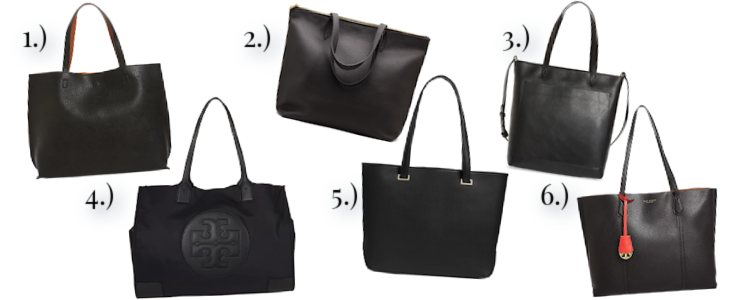 (Looking for a luxury work bag? Here's our latest roundup…)
So, for my $.02, those are the distinctions I would make between a law school graduate beginning her career, contemplating a briefcase/tote purchase, versus a summer intern, contemplating a handbag purchase.
What do you think, ladies? When can you wear an expensive briefcase — or watch — or pair of shoes — or piece of jewelry — to the office? When does such a thing hurt your credibility/professional reputation?
Hunting for a great handbag? In 2023, readers are loving affordable crossbody bags like those from Cuyana, Lo & Sons, and Madewell.
In terms of a designer bag to suit your life as a professional, readers have been loving affordable(ish) brands like See by Chloé, Polène, Strathberry, DeMellier, and Mansur Gavriel, as well as more designer bags like Chloé (particularly the Marcie line) and Mulberry. (If money is no object, Loewe and Bottega Venetta are always worth a look!)
Updated images (woman with white pants walking with handbag) via Stencil.