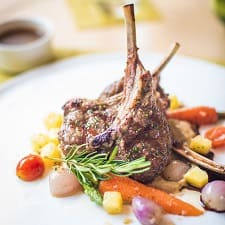 2017 Update: We still stand by the below roundup with business lunch etiquette tips for summer associates and interns — but here's a link to our most recent discussion on dining etiquette and check out our Resources for Summer Associates page.
This week, in our Summer Associate Series*: what are some of the best business lunch etiquette tips that interns should know about — for business lunches, office cocktail parties, and more?  Readers already working: what are the biggest dining etiquette tips you wish interns and SAs knew? Which are the biggest blunders you see (from both the guys and the gals)? Summer associates and interns: what are your biggest areas of confusion? 
(*Name aside, we hope this series will be helpful to ANY intern, whether you're a law student or another woman interning in a conservative office for the summer.) Check out our previous post on general summer associate style, what to wear for the creative summer associate events, and general business etiquette tips.
Here are some of the best dining etiquette questions we've covered in the past — readers, what have we missed?
Finally, these aren't etiquette rules per se, but our best advice for eating in a high stress job in general:
Picture via Stencil.