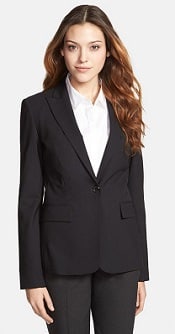 If you're planning to attend an alumni lunch for your law school — and you'll be taking the opportunity to network there — how should you dress? Is wearing a suit a must in this situation? (Pictured, Boss Juicy 6 Jacket, $575 at Nordstrom — check out our full guide to women's suits for more ideas.) Reader K wonders…
I am starting to network to look for a new job and have decided to attend my law school's annual alumni lunch (I am a lawyer). It's on a Friday in a hotel ballroom. Should I wear a suit or is a professional business dress (with sleeves) sufficient?
Interesting question, Reader K! For my $.02, I would say SURE, wear a suit. Why not? You have one, and you want to look professional. If anyone at work asks why you're in a suit, there's nothing suspect about attending an alumni event — and at the event if anyone asks why you're in a suit, you can just say you have another big meeting. (I doubt they will — my guess is that 95% of people there will be in suits. But I'm sure this depends on your geographic location, as well as your law school.) Particularly given the fact that this is a lunch — and the law school alumni lunch at that — I would say that a suit is the easiest, no-brainer answer here — throw it on and be done with it. (Read some of our best business lunch tips here, as well as some of our thoughts on alumni networking here.)
In fact, I would say this is a perfect opportunity to start wearing a suit in your regular wardrobe rotation. Some of the best advice I got when I was just starting out was that you should wear a suit as often as you can, even if you don't "have" to — at least once a week! — because it gets coworkers and bosses used to seeing you in a suit. Then, when you're trying to secretly interview for new jobs, when you come to work dressed in a new suit, it doesn't scream "I have an INTERVIEW today!"
Ladies, what are your thoughts? How often do you try to wear suits? What would you wear to an alumni networking lunch with lawyers?