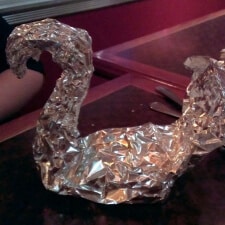 2020 Update:
We still stand by this analysis of when you can take leftovers from a business lunch — links have also been updated below. You may also want to check out our ultimate guide to business lunch etiquette.
Is a doggy bag is ever appropriate in a business context? Today's reader wonders what the etiquette rule is on whether she can take leftovers from her business lunch…
I was wondering if it's ever appropriate to get leftovers from business lunches or dinners wrapped up to go. The portion sizes at restaurants can be so large, and I hate having food go to waste (especially food from eating out!) but I am fairly junior and it may seem a bit much (as in grabby or greedy). Thoughts?
We agree, leaving leftover food is wasteful. However, we must caution against asking for a doggy bag (even if the restaurant will shape it into an amusing animal). You're right, it does sound slightly grabby or greedy — particularly because it's entirely possible to ascertain beforehand if the restaurant where you're dining is one that believes in large portions, such as by looking around the room or asking the waiter — which means that taking leftovers might leave the impression that you either a) ordered for dinner as well as lunch, or b) just are not very observant. Neither are good things for the business lunch. Instead, we would say that the business lunch is all about precision ordering: if you know you're not very hungry or just can't eat large portions, look to the appetizer/salad sections of the menu. There's nothing wrong with getting an appetizer or two instead of a main meal, or, if everyone else at the table is getting appetizers, ordering a plain green salad as yours. If this is really a problem, we'd advise you to avoid carbs at lunch — no pasta or potatoes — as those can be very filling, at least initially, and instead stick to vegetables, which are less filling, more nutritious, and a good use of opportunity to have someone else cook for you. (If you're anything like us, all fresh veggies you buy go bad before you have a chance to eat them because you're always at work, and veggie dishes requiring lots of work like cutting/chopping/cleaning just don't get prepared that often.) We would also say that there's no harm in being like
Sally
and asking for substitutions such as a green salad or fruit salad instead of potatoes, or to ask for creamy, filling sauces on the side. If you just can't finish your meal, don't make a big fuss about it or comment about it — just put your fork and knife together on the right-hand side of the plate, and continue with the conversation. (Leave your napkin in your lap until everyone is getting up to go.)
Readers, any thoughts? Can you take the leftovers from your business lunch?
Picture credits Indian Takeout for Dinner, originally uploaded to Flickr by Diana Schnuth and (swan) Day 188: "Swan", originally uploaded to Flickr by Sean Freese.
Picture below via Stencil.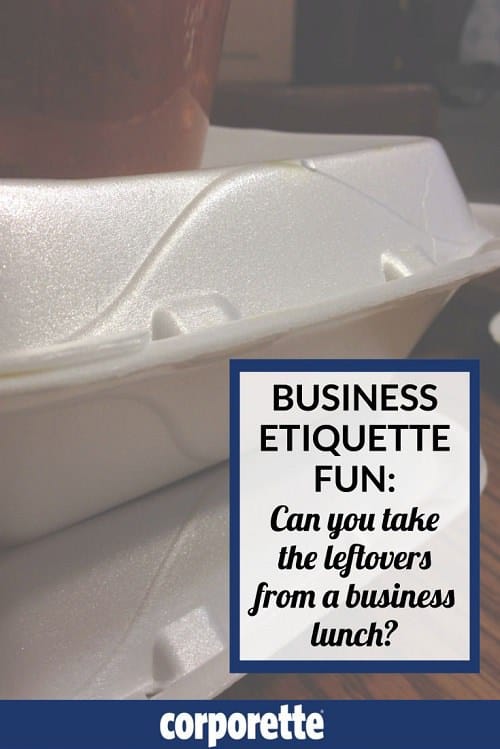 We are a participant in the Amazon Services LLC Associates Program, an affiliate advertising program designed to provide a means for us to earn fees by linking to Amazon.com and affiliated sites.