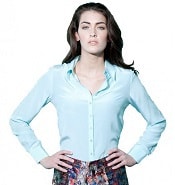 2018 Update: We still like this roundup of busty blouses, but if you're a busty professional, you may also want to check out some of our other content, including our most recent roundup of the best dress shirts for women with large breasts.
Which are the best blouses for those of us who are on the busty/hourglass side? We've talked about how to dress professionally if you're busty and how to fix your own gaping shirts, as well as where to get bespoke dresses for work, but we haven't totally talked about the best blouses for bustier women. Reader A wonders:
I am an older woman who wears a 44 DD bra. The blouses in the larger women's department are sized with armholes and sleeves that are too big. I would like to find a silk professional button down shirt, or have one tailored to fit. We live in Montana so I have to shop online. Any suggestions as to where I can find this blouse?
There are a ton of places that make shirts like this, and I'm also going to refer you to the blog Hourglassy, which I enjoy as a reader. I was particularly intrigued when one of the bloggers there tried to get an off-the-rack shirt tailored for her (which is what I've always heard people recommend). (Pictured: The Signature Silk Shirt, available in four colors at The-Shirt.com for $138.) Readers with bust issues — which are your favorite stores for blouses? Has anyone had custom shirts made from scratch?
That list of stores that I know of in this space:
Readers who are on the busty side — which are your go-to shops, stores and brands for professional clothing?