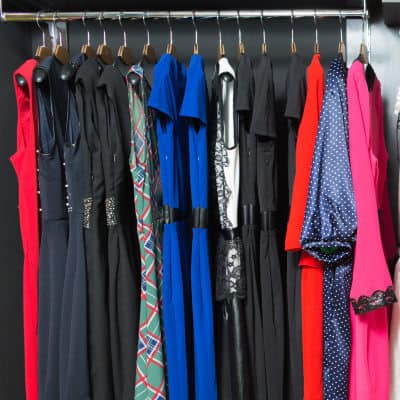 2019 Update: We still stand by this advice on buying duplicates of your favorite clothes; you may also want to check out some of our advice in The Minimalist's Guide to Dressing for Work.
I thiiiink we've talked about this before (possibly in our discussion of shopping habits or in this long ago discussion of what clothes do you buy again and again), but it's been ages and ages: Do you buy duplicates of your favorite clothes? This can either mean, "Hey, these pants ROCK and I am going to buy them in every color," to "Man, it stinks that my favorite t-shirt is often in the wash, so I'll just buy 3 more," to "I love this dress SO MUCH and if I am ever unable to wear it I will be sad, so I'm going to buy a backup!"
For a long time this was default advice for fashiony people — if you love it, buy duplicates! But in the age of minimalism, do you think that's still true? If you wear a work uniform or a capsule wardrobe for work, do you like this idea? On the flip side, if you're in a style rut, do you blame too many similar purchases?
For my $.02, I kind of do tend to buy duplicates of my favorite clothes, and I'll admit that I sometimes regret it. Right now I think I have four each of my favorite black t-shirts from Everlane (affiliate link) and Lands' End (which I'm now happy about since I think they stopped selling my preferred slub jersey!). I have two colors of my favorite Hue leggings and an additional one that I bought on sale (with tags still on in case). I have the exact same pair of jeans in two washes. I have multiples of the same sheath dresses. I do this with makeup too — I have the same eyeliner in multiple colors, and I just bought a backup of my favorite splurge-y lipstick because I believe it's being discontinued. If I like something, I use some of my favorite online shopping apps to watch for sales and then strike.
How about you, readers: Do you buy duplicates of your favorite clothes? Do you buy them OFTEN or only if you see a crazy sale? Have you ever regretted buying a duplicate of something?
Stock photo via Deposit Photos / kopitin.