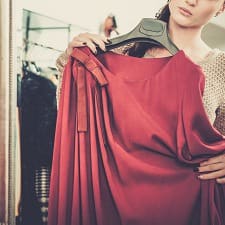 So here's something we haven't talked about in a thousand years: how to reassess your personal style and, if necessary, get your style groove back. Some fun things we've discussed in the past include where to start when you need style inspiration, the weekend you vs. the weekday you, how to cultivate style (vs. following trends), "next step" brands (as in, I've graduated from Express — what's next?) and, many moons ago, how to revamp your entire wardrobe.
I'm going through a bit of this right now myself. This is how I'm trying to get out of my style rut, but I'd love to hear your tips as well!
1) Assess what's working. For example, you may have a great uniform right now that works — like black tops and gray pants — and you're just looking to mix it up a little without throwing out your entire wardrobe.
2) Assess where you want to go — and what's stopping you now. For example, if you're not a fan of ironing, the starched-blouse-Carolina Herrera/Arianna Huffington look is not for you. But you could add an academic look by wearing collared dickeys beneath sweaters, or replace the idea of a collar with a prominent necklace, worn with an opaque white tee.
3) Retrain your brain, if necessary. For example, maybe you don't like the look of flats with skirts and dresses, but you ALSO don't like to wear heels. This doesn't necessarily mean that skirts and dresses are out for you, just that you have to educate yourself on how people are wearing them. On a related note, this may also be necessary if you're thinking to yourself, "I wore _[trend]_ when it came around the first time and I won't be caught DEAD in it again!" If we're talking about Hammer pants, OK. But bootcuts — or leggings — or duster coats — or plaid — there are a lot of things that feel "trendy" but are just cyclical and come back in style again and again. The people who make the clothes are savvy enough to make the styles different by just a bit — the cuts are just sliiiightly different and the ways they can be worn tend to be different.
4) Get Pinning. I know, if you were in it to win it in 2013 or so with Pinterest, it may seem to be waning in its current iteration, but I really do think that this is where Pinterest excels. (Have you stopped by our Pinterest boards lately for some inspiration?) I'm pinning:
outfits I like
body twins where I like THEIR outfit (As I've noted before, my hourglass shape has turned more apple over the years, and it's so difficult to find celebrity or blogger inspiration where they don't look winched into Spanx.)
outfits that challenge me — sometimes I look at an outfit and think NOPE, not for me, next — and other times it's a bit more puzzling whether it is or isn't for me. I find that if I pin the look after four or five visits, I can put my finger more precisely on what I do or don't like (the shoes, the lines, the pattern) and how I might want to try the look for myself.
5) Start trying things on! Shopping, thrifting, clothes swaps… they're all good. If you have similar-sized friends, try to do a closet declutter event at the same time. Services like Stitch Fix can also be great because they can force you to try new things that are a little bit outside your comfort zone. (I would also say that our four-week work outfit challenge might be great here — lots of workwear inspiration and ideas!)
Ladies, what are your thoughts on style ruts? Have you been in one recently? What did you do to get your style groove back? How often do you reassess your personal style?
Stock photo via Deposit Photos / nejron.