Ladies, is one of your resolutions to have a more minimal wardrobe for work? I've seen a lot of reader conversations about it, and been asked a bunch about it over the years, so I'm finally rounding up my tips: here's the minimalist's guide to dressing for work! If you've done a closet revamp (or built a work wardrobe from scratch) recently, what are your best tips on having a minimal work wardrobe?
For all the readers starting to think about building a wardrobe for a summer internship or otherwise creating a capsule wardrobe for work, what would you advise them? Do you think a minimal work wardrobe necessarily means having a work uniform or being ok to repeat outfits at work?
1. Pick a consistent base.
Pick a consistent base color for your wardrobe essentials for work like pants, sheath dresses, blazers, jardigans, and more. For a lot of women that means black or gray.
Here are some of our favorite pants for work:
This post contains affiliate links and Corporette® may earn commissions for purchases made through links in this post. For more details see here. Thank you so much for your support!
2. Consider factors like garment care, weather, and ethics.
Pay attention to thinks like:
Care.
As you're building your wardrobe pay attention to how things need to be cared for, and what you're wiling to do. If you have one piece that is "dry clean only," it may get waylaid at the bottom of the drycleaning bag and be out of commission for longer than you would like.
Your laundry schedule
In my last "single girl" apartment, the laundry was four flights down and there were only two machines, so I wound up clearing an entire weekend once a month to do laundry.
Later, when we moved into an apartment with a washer and dryer (and had a baby who required constant loads of laundry!), I wondered why I had SO many workout clothes and t-shirts I never wore, and towels I never used. It took me way too long to realize it was because my laundry schedule was totally different in the new apartment!
Seasonality and layers
How many cashmere sweaters do you really need if it rarely goes below 40 where you live? Similarly, consider whether you really need things like linen suits or blazers. A bottom layer like silk long johns may seem like it doesn't make sense, but because you can wear it with multiple clothes it may be a better investment than several pairs of super warm pants that you only wear once or twice a year.
Durability
The goal, of course, is to buy well made clothes that will last a long time. If you notice that your clothes aren't lasting very long because they start to look old with pilling, discoloring, and more, it's time to avoid that brand of clothing or fabric choice.
Ethics
You may want to focus on slow fashion and buying things made with environmentally friendly fabrics, produced in America or other factors
3. For basics, consider buying multiples of what you love.
For example, for socks, tights, underwear, bras, t-shirts, and sleepwear, if you find one you love, just stock up — it reduces your mental load to buy duplicates of your favorite clothes. Do keep in mind the other factors, though, like seasonality, your laundry schedule, and more.
Readers looooove these sweater jackets:

4. Know your neutrals.
For some women that might be beige; for others it may be cream; for others it may be caramel. Pale blue or pink can often act as a neutral as well. The trick is to know what's flattering to you, what works with the rest of your minimal wardrobe base, and importantly, what you'll wear.
5. Pick a limited color palette for accents.
We talked about this with our discussion of capsule wardrobes for work a few years ago, where I illustrated how even if you pick bold colors like red, purple, and royal blue, you can keep a consistent look with a minimal wardrobe. If you want to get fancy, you can pick a favorite multicolored thing you own — maybe it's a scarf, or a sweater — and pull the colors from that scarf into a color palette.
You can buy a minimum number of pieces but establish a consistent, pulled-together look that transcends style or trend.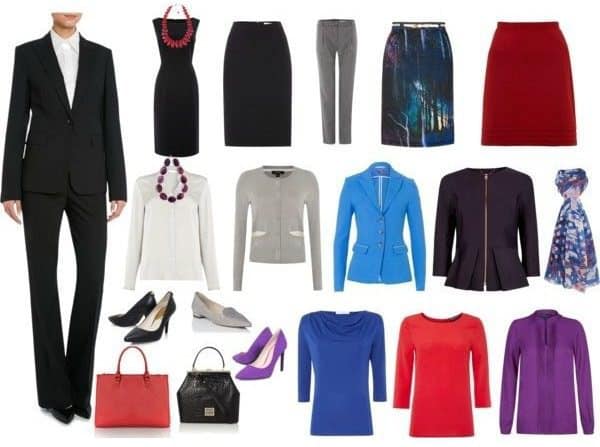 Pictured at top (white shirts): Deposit Photos / WorldWide_Stock.