Sure, we all know what basics professional women are supposed to have in their closets, but if you're buying one for the first time or replacing one you've worn into the ground, it can be a pain to find exactly the right incarnation in stores. In "The Hunt," we search the stores for a basic item that every woman should have.
We rounded up some of the best crisp button-downs around this time last year, but we haven't ever rounded up the best silk blouses (aka silk-button fronts). I'm still a fan of the ones with a pointed collar (instead of a rounded or band collar, or a split neck) for a more classic look — the collar looks great beneath a suit blazer, layered underneath sweaters, and more.
For my $.02, I'd suggest wearing a cotton camisole (with the arm holes adjusted fairly high) beneath them so you can try to get at least two wears before you have to take them to the drycleaner.
There's a ton of selection out there — readers, which are your favorite silky button-downs? Do you have any laundry tricks (either to extend the wears-per-launder or to make them look nice without drycleaning?) Any must-haves (or do-not-buys?)
Check out our Wardrobe Essentials for Work — all the reader favorites!
(Some related categories to check out: some of our favorite crisp collared shirts — as well as some of our favorite plus-size workwear blouses!)
The Best Women's Crisp Button-Front Blouses
The Best Plus-Size Workwear Blouses
tstt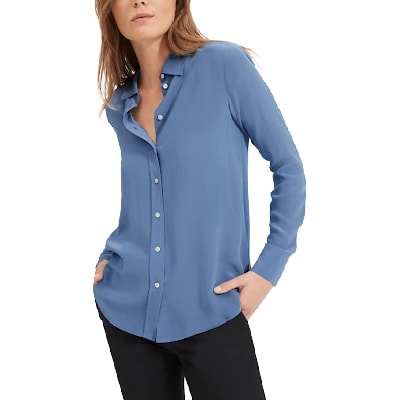 tktk
Like this feature? Check out other recent installments!