Sure, we all know what basics professional women are supposed to have in their closets, but if you're buying one for the first time or replacing one you've worn into the ground, it can be a pain to find exactly the right incarnation in stores. In "The Hunt," we search the stores for a basic item that every woman should have.
We rounded up some of the best crisp button-downs around this time last year, but we haven't ever rounded up the best silk blouses (aka silk-button fronts). I'm still a fan of the ones with a pointed collar (instead of a rounded or band collar, or a split neck) for a more classic look — the collar looks great beneath a suit blazer, layered underneath sweaters, and more.
For my $.02, I'd suggest wearing a cotton camisole (with the arm holes adjusted fairly high) beneath them so you can try to get at least two wears before you have to take them to the drycleaner.
There's a ton of selection out there — readers, which are your favorite silky button-downs? Do you have any laundry tricks (either to extend the wears-per-launder or to make them look nice without drycleaning?) Any must-haves (or do-not-buys?)
Check out our Wardrobe Essentials for Work — all the reader favorites!

(Some related categories to check out: some of our favorite crisp collared shirts — as well as some of our favorite plus-size workwear blouses!)

Pictured above, the best women's collared blouses as of 2022: one / two / three / four / five

Pictured, some of the best plus-size workwear blouses as of 2021: one / two / three / four / five
The below content concerns products that may be sold out, unfortunately…
This super-sale silk blouse from Pink Tartan leads the list — it was $325 but (at the time of original writing) was marked to $67 at Off 5TH; we leave it in as proof that deals can be had if you hunt. This particular blouse is now sold out, but these are other great places to look for silk blouses on sale: Nordstrom, Last Call, Off 5TH, and 6pm.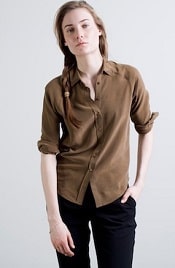 On the flip side: if you're not in the mood in hunting for deals, Everlane has a silk blouse (with multiple collar styles and multiple colors) that is regularly priced at $80 (no sales). I like the "acorn" color, pictured, with the point collar. (Click here if you're new to Everlane and need an invite!) Everlane Silk Point Collar
I'm curious to hear what readers think of J.Crew's silk pocket blouse — opinions? Thoughts? It's still available as of Nov. 2016 for $138 full price, but of course keep an eye on J.Crew for deals. J.Crew Silk pocket blouse
I would say that Equipment is the brand I think of most when I think of silky button-front shirts — the colors! the variety! the fun prints! Their "Slim signature" blouse is pictured at the top of this post and still available as of 2016, and this particular blouse (the Brett) is still available at most major retailers, at least in the sale sections. You can find lots of Equipment blouses on sale at spots like Nordstrom, Amazon, Last Call, OFF5TH, The Outnet, and even Saks. (Any others, ladies?)
DvF has a number of silk blouses new to their sale section, and there are some great basics as well as some fun prints in there. This particular silk blouse is now sold out; Nordstrom has a great selection of DvF blouses currently just under $300.
Even though Thomas Pink is primarily a man's store, I always think they nail it with their women's blouses. This Darcy silk shirt looks gorgeous, and it comes in your classic white, pink, and navy blue. It's $325. Thomas Pink Darcy Shirt
Like this feature? Check out other recent installments!