Ladies, how often do you buy purses and bags? Do you prefer to make one big purchase and buy a quality, name bag — or do you prefer to make more frequent, smaller purchases? Does having a trendy bag matter to you, or do you want a classic style?
I've been thinking about this recently because I've been helping a friend look for her first big bag purchase in a while — she's finally out of the diaper bag phase of her life, has almost 2 of her 3 kids in school, is settled into her "forever" house, etc.
Accordingly, she and I have been trolling resale sites like Tradesy and The Real Real, as well as discount sites like Last Call and Rue La La. She's inclined to make one big bag purchase, and carry the bag everywhere — and she'd like to find a designer bag for around $500.
(We've yet to find the perfect bag at that price point — I've suggested she look at discounted but new Furla bags for quality, stylish bags, as well as lightly used bags like Mulberry, Ferragamo, and Saint Laurent.)
In the past I've gone the other way, buying bags frequently but at lower price points. In my lawyering days before kids, there was a steady stream of discounted bags that I paid between $150-$350 for, all with original MSRPs of $500-$700.
(You can see a lot of them pictured/discussed in this older post on purse budgets.)
They were all quality, leather bags — lots of Cole Haan, Furla, Botkier, Dooney & Bourke, with the occasional Coach or Kate Spade thrown in — but none of them really qualified as "designer" bags on the same level as my friends with Chloe, YSL, Prada, Chanel, Bottega, etc.
So I've wondered over the years — should I have just saved the money up and spent my "purse budget" on a single designer purse each year, instead of four or five little ones? Would that be a better "investment"?
Here's the interesting thing I'm finding while looking for a purse for my friend: a lot of the designer bags I'm seeing seem incredibly dated to me. Much, much more so than the fun, sometimes offbeat bags my closet is filled with. Some of the bags I see are particularly tied to very old memories, such as: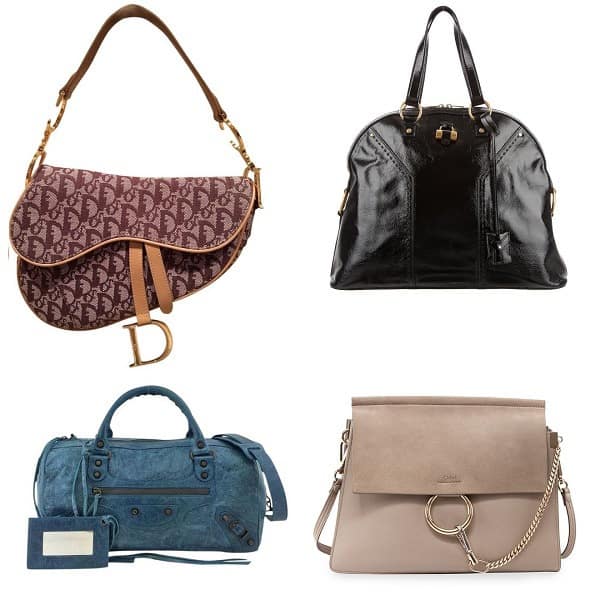 Maybe there's a benefit to buying bags that were more affordable — because they were never "in" they can't ever be out? Or perhaps the sheer volume of bags from my youthful spending days kept any of them from being associated too strongly with one time period.
I have memories attached to them, to be sure — ducking out of work to make it to the rare sample sale for the Kooba black patent leather bag, or taking my red Botkier Trigger bag with me on my honeymoon, even though I'm sooooo not into red bags, just because it was just the best organized bag I'd ever seen?
(I saw one years later on Bluefly in a cobalt blue and bought it, and got compliments on it then too. You can get a silver version for $65 right now if you want.)
It's interesting that Kooba is still selling its Jonnie bag ten years later, and Botkier is still selling a version of the Trigger satchel, as well (both pictured below). But maybe the more designer-y bags are an "investment" because their resale value is higher than my other bags?
So many factors to consider, so I'm curious to hear what you guys think.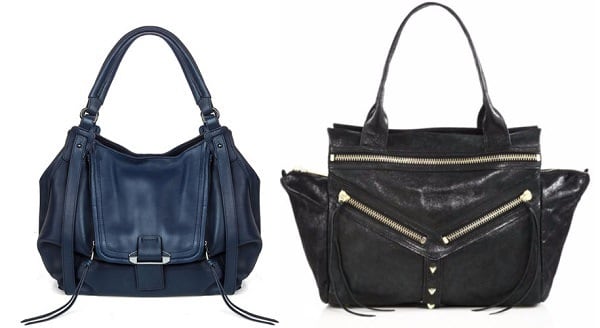 Anyway: what do you guys think? Is there such a thing as a designer bag that truly stands the test of time? Do any of your designer bags qualify, and if not, does it matter to you if you get a year or two's worth of wear out of it? Do you have a special kind of fashion math that applies to bag purchases? Where is your "sweet spot," price-wise, for designer bags?
Psst: we've talked before about how to upgrade your handbag collection, if you're curious, as well as whether a lawyer "needs" a designer bag, and WHEN to upgrade your bag (if the intern with an Hermes bag is frowned upon).
We are a participant in the Amazon Services LLC Associates Program, an affiliate advertising program designed to provide a means for us to earn fees by linking to Amazon.com and affiliated sites.
This post contains affiliate links and Corporette® may earn commissions for purchases made through links in this post. For more details see here. Thank you so much for your support!
Update: Our Latest Favorite Designer Bags and Luxury Work Bags
Hunting for a great handbag? In 2023, readers are loving affordable crossbody bags like those from Cuyana, Lo & Sons, and Madewell.
In terms of a designer bag to suit your life as a professional, readers have been loving affordable(ish) brands like See by Chloé, Polène, Strathberry, DeMellier, and Mansur Gavriel, as well as more designer bags like Chloé (particularly the Marcie line) and Mulberry. (If money is no object, Loewe and Bottega Venetta are always worth a look!)
As of Feb. 2023, some of our favorite luxury work bags for a splurge (large enough for work papers and sometimes even a laptop) are from Chanel, Louboutin, McQueen, Mulberry, MCM, Jimmy Choo, Ferragamo, and Strathberry. Of course, note that a lot of our readers who are in big jobs note that they love their (more affordable) Lo & Sons bags, as well as their Tumi.
Looking for work backpacks to splurge on? Montblanc, MCM and Senreve are great, and Valextra has some men's backpacks that look perfect.