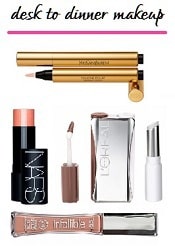 2018 Update: We still stand by this advice on desk to dinner makeup — you may also want to check out our recent post on what to avoid in "desk to dinner" dresses.
Which makeup do you find indispensable for the desk-to-dinner refresh/transformation? I just realized the other day that we've never really talked about this (although I've certainly touted the individual products that I love enough), so I thought we should discuss.
For my $.02, if I'm meeting my husband or friends after a long day of work, I tend to do more of a "refresh" than any crazy transformation. To me that means:
Skin: Touche Eclat under my eyes, over my browbone, and around my nose for a lighter "wakeup" than straight concealer
Cheeks: Nars Orgasm The Multiple on my cheeks to add back some color (and also some sparkle for the evening)
Eyes: a bit more eyeliner, usually, and if it's officially a Dinner Out kind of night, I'll add dark shadow to my crease and along my lash line (the "bigger" the night is the darker I tend to go!)
sometimes a bit more brow liner if I've had a head-in-my-hands kind of day
Lips: I'll usually wipe off whatever lipstick is still left and do a fresh application of lip — if it's a party or networking situation (where I expect to nibble instead of eat, if that makes sense) I will usually put on at least L'Oreal Paris Infallible LipColour, usually with their Never Fail Lipgloss layered on top. (I'm a fan of the one-shade-darker-than-my-natural-lips look, which for me is Nutmeg and Barely Nude.)
I tend to save a "full eye" with multiple colors and shadows and the occasional false eyelashes for when I'm starting with a fresh face, instead of makeup I applied many hours ago.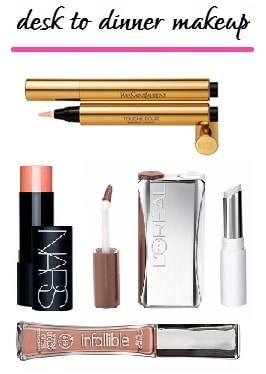 (Aww, my first image map! Click on the pictured products above to go to their product pages. Or: Touche Eclat / Nars Orgasm the Multiple / Infallible Lipcolour / Never Fail Lipgloss.)
Readers, what products do you swear by for your desk to dinner makeup needs?  Do you tend to do a "refresh" or a total transformation? (Or, do you skip it and just hope your morning makeup lasts all the way through dinner?)