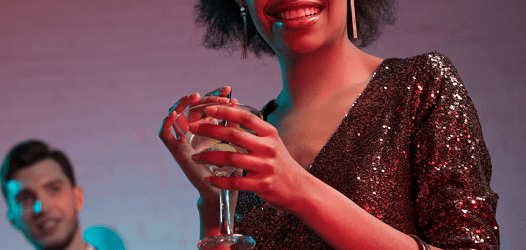 I was looking at a major department store's "Wear to Work" dresses and found myself negging rejecting half of the dresses because they looked like wedding wear to me instead of workwear. And it occurs to me: this topic comes up a TON — what is cocktail attire, what is office attire, what is wedding attire — and do any pieces straddle the line so successfully that you can honestly wear them to multiple situations?
I'm not going to pretend to be innocent, either, as I'm sure many readers will note — sometimes we've made some workwear recommendations a little too closer to the "wedding wear" line.
Still: what are your thoughts? Where do YOU draw the line between wedding wear and office wear?
For my $.02, from my own personal experience and everything I've learned in doing the blog, this is my sense of the line between wedding wear and office wear:
Wedding Wear that is NOT Office Wear:
stiff crepe / polyester fabric that has a sound to it
too short, too tight, too low-cut
Anything shiny (I'd make a slight exception for shimmery thread details in a tweed jacket, but that's me)
Anything involving tulle
QUESTIONABLE Office Wear (Probably Closer to Wedding Wear):
All of these things come down to "know your office," but if a specific dress or outfit ticks off two or more of these categories below (or above) the default answer is a no…
mesh or lace details, particularly in "flirty" spots on the dress, like a slit, cutout, neck detail, or overlay
super girly colors like hot pink (for this one in particular I think the "two factors or more" consideration is important — there are lots of pink dresses that are just fine for the office and are probably NOT festive enough for a wedding)
Jacquard or other unusual fabrics for work
Cutouts (I like them sometimes but I know many readers do not — I think the question comes down to whether you can wear a regular bra with the dress or if you need a "special bra")
Jumpsuits – know your office
How to Turn Office Wear Into Wedding Wear (Desk to Dinner Style!)
I've said it before and I'll say it again — sometimes it's better to just get different outfits for different purposes. Still, if you're trying to get more costs per wear out of an item, you're traveling and trying to make a limited wardrobe work, or you're gaining or losing weight and don't want to buy or borrow something your current size…
Add sandals in summer — particularly metallic or shiny patent leather sandals
Add sheer black hose / fancy shoes (think sparkly or a fun texture you wouldn't wear to work)
Add blingy jewelry (see below)
Add a sheer, shimmery, or festive wrap
Remove any office trappings – for me this would be my Apple Watch; you might also be sure to switch your bag from a big tote or shoulder bag to a smaller clutch or going-out bag
Switch to party makeup (even if you're just doing desk to dinner makeup)
Fun Statement Necklaces to Add for Desk to Dinner
Festive Work Outfits (They're Great for an Office Holiday Party)
Some of our favorite jumpsuits and party dresses for professional settings include these as of Oct. 2022… depending on the event, you may also want to check out our latest favorite colorful sheath dresses (great for alumni events, or just get darker colors like navy).

Day to Night Dresses
These elegant dresses could do double duty and go from day to night — which are your favorites?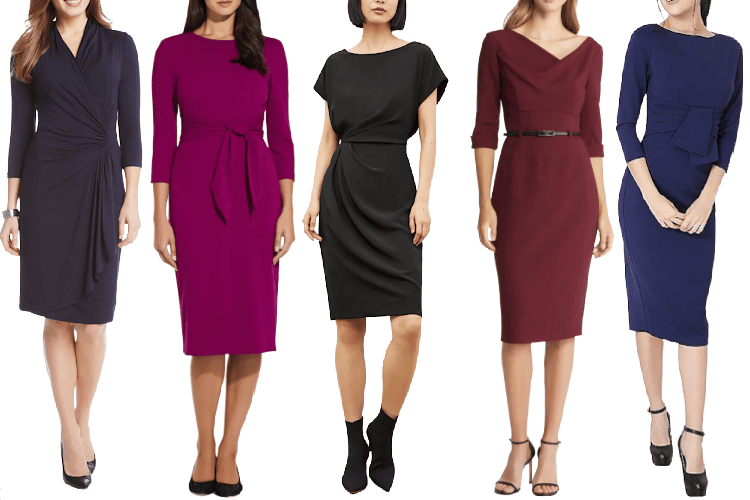 Readers, what are your thoughts? Where do you draw the line between office wear and wedding wear? Do you regularly buy dresses or outfits hoping to be able to wear them to work and for dates, cocktail parties, weddings and more?
Stock image: Deposit Photos / ArturVerkhovetskiy.