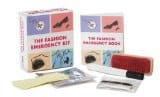 If someone at work is having a wardrobe problem, should you tell them about it? This is something we've often wondered about…
I'm interested in your opinion on a dilemma I found myself with in the elevator this week – I was standing behind a young woman who had on a very nice jacket which happened to be missing one of the decorative buttons in the back. There was no one else on the elevator. I debated with myself whether I should tell her (after all, this is exactly the type of thing I would completely miss and continue to wear the jacket several more times), or to mind my own business. In the end, I didn't tell her and it's been eating at me since. What's your thought? If you see a stranger with a problem like this (or another one I frequently encounter – the back of jackets still "sewn" together with the loose fabric X"), should you tell them if you can do so discreetly? How about a co-worker? A friend? (A friend I think is a slam dunk, yes, definitely, but that's just my opinion.)
The answer depends on the situation, we think.
If it's a problem with the garment — missing button, skirt tucked into pantyhose, split in pants — we would say, tell her if you can do so in a private manner.
So here, where you're alone in the elevator with her, and the problem is with her garment, we'd absolutely go ahead and tell her. Something as simple as "Fabulous jacket! I hate to tell you, though, that you're missing a button in the back. I'm sure you can get it fixed super easily, though." We would also put stains in the same category. (Pictured above:
Fashion Emergency Kit
, available at Amazon.com for $6.95.)
If, however, the problem has to do with a choice the person made about the garment — such as whether to remove the fabric "X" that closes the slit on a jacket or skirt, or wearing a top that is gaping open because the person declined to wear a camisole or safety-pin it — then you should think twice before you tell her.
OF COURSE, our suggestion is to recommend this blog to your friend — "They talk about
what to wear to galas
, and
how you're supposed to slit the fabric X
, and other great stuff!" — but beyond that it's going to sound like "You clearly don't know what you're doing." Maybe,
maybe
in the right conversation you could say, "Oh, interesting choice to leave the slit closed on your skirt — it gives it much more of a pencil look!" — but even this, when said with the wrong tone, will sound bad. Some things definitely fall into gray territory — someone commented a bit ago about chasing a partner down the hall before she went to court to warn her that her white bra was showing through her black sweater, for example. There, we think the circumstances — primarily, "heading to court" (also "heading to big meeting") justify the action and (if we knew the partner well enough to know where she was going) we would have done the same thing.
Readers, what do you think?
We are a participant in the Amazon Services LLC Associates Program, an affiliate advertising program designed to provide a means for us to earn fees by linking to Amazon.com and affiliated sites.