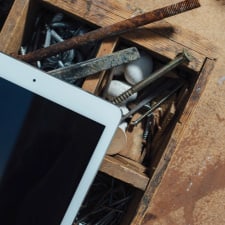 We recently did a story over at CorporetteMoms about the best online backup services for your computer, but we haven't had an open thread like this in a while, so let's discuss: What apps, gadgets, tools and more are you loving right now? What makes your life easier, or more enjoyable?
Picture credit: Death to the Stock Photos.
For my $.02, my new favorite toy is my Chromebook — it's so much lighter weight than the clunky old laptop we use (and has a great battery life), but it feels like it does so much more than my (clunky, now outdated) iPad. I mostly use it for lounging in front of the TV at night, though, or for working somewhere else than my desk to try to better focus on work (WiFi permitting), though. I'm still a fan of my Bluetooth keyboard, particularly for typing on my iPhone when I'm traveling or at a conference; I sometimes bring it along if I expect I might be waiting in a doctor's office for a while, too. And, like I wrote about a few weeks ago, I still really like the Siri productivity functions of late. I still love all of the apps I mentioned in our last roundup of the best apps for working women, in addition to Pepperplate for shared recipes with my husband. I've also bought Stylebook, the closet organizing app that I keep seeing readers raving about, but I haven't gotten set up with it yet. Online focus-wise, I still use the Chrome extension Morphine all the time to improve focus; the Kill News Feed extension has also been pretty powerful for me. (I use it just for focus, but it would also be great if you're trying to take a partial social media break.)
Over to you, ladies — which are your favorite apps, gadgets, or tools of the moment?