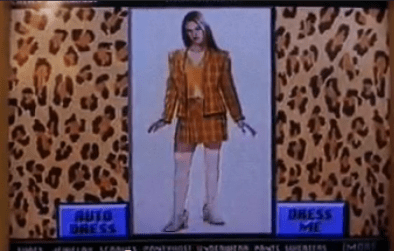 Update: We still think this is a great discussion on the important topic of how often can you repeat your outfits at work — but you may also want to check out our more recent discussion on repeating outfits at work. If you're wondering how to mix up your outfits more, check out our work outfit challenge, with TONS of work outfit ideas!
Can you wear the same outfit over and over again to work? How often can you rewear an outfit? Reader N wonders how often can you repeat your outfits at work…
Do you have any tips about how often you can wear the same outfit to work? Or posts on outfit frequency? I tried to search in the archives but couldn't find anything.
This is a great question, and one we haven't talked about before. A friend of mine was just describing a former coworker who wore the exact same outfit (dress, tights, shoes, jewelry) multiple days in a row — and how no one could figure out what her deal was (but everyone was wondering!). So: don't be that coworker!
Personally I think you can repeat the exact same outfit, but the more memorable it is, the less often you can repeat it. But before we get into that, let's note that "outfit" can mean the exact same clothes (e.g., navy Brooks Brother blazer, gray Banana Republic slacks, pink Ann Taylor blouse) or it can mean "the same look" (e.g., black trousers, black sweater, silver jewelry). For the record, I don't recommend that anyone wear the same clothes multiple days in a row — your pants, sweaters, and blazers will wear better if they get a bit of time to "air out" after each wearing (if you decide not to launder after each time you wear them). In addition to hygiene/smell/dirt issues, this is really what gets the office rumor mills started. Is she doing the Walk of Shame? Is she so so out of it that she didn't realize she put the exact same clothes on again? On the other hand, if you wear the same "look" every day — especially if it's a monotone look like black — that's a bit different because it's more like a uniform; as long as you're wearing different actual clothes I think you can repeat the look as often as you want. (On yet another hand, I think you can rewear wardrobe staples — such as a black sheath dress — once or twice a week, so long as you give it a different look. Day 1: sheath dress and blazer. Day 2: sheath dress with cardigan belted on top.)
To me, "once every two weeks" is about the max you can get away with for an clothing-specific outfit. Thinking back, some of my favorite work outfits that I might have worn up to twice a month would include things like the blue blazer/gray pants/pink blouse combo above… or olive green pants, olive cardigan, purple tank…. or black skirt, bright blue cardigan, burgundy red tank. On the other hand, very memorable pieces of clothing that I have (a hot pink skirt with a white diamond pattern on jacquard fabric, a floral green blazer) are things that I would only trot out a few times a quarter because the piece of clothing *was* the outfit, if that makes sense. This doesn't mean that those hot pink skirts aren't worth the money (particularly since one skirt may stay in your closet for 5-10 years) but it does mean that you should probably limit those memorable pieces (and make them good quality, so they can stand the test of time) if you're updating your professional wardrobe, just beginning to build your wardrobe, or you have to whittle your wardrobe down to basics because you're traveling for work.
Readers, do you put together entire "outfits" and rewear them? How often do you rewear outfits? At what point do you begin to wonder about colleagues who repeat the exact same outfit? How often CAN you repeat your outfits at work?